I went to White Bricx Cafe with a foodie friend, and yes, we had a great time.
The overall experience was extremely nice. It is a must-visit restaurant, especially in Winters because of the cute outdoor seating setup.
Read on to know more about the place and the food:
About the Place- Simple and elegant

Ambience

Indoor: The seating was quite comfortable and pretty with blue upholstery and wooden (cherry) tables. Each table had a hand cleaning lotion, which is a very good approach for a positive dining experience.
Outdoor: The seating was very cute, perfect for romantic dates in Winters because they have a swing-cum-table setup where you can sit on the swings and eat your meal.

Menu: The menu is extensive, i.e. many options in different cuisines and beverages.
Employees: By far, the most understanding and friendly staff that I have ever met.
 Food: Very Nice

Chicken Galouti Kebab: Softest kebabs that we have ever eaten. Tasted amazing. Was served with green mint chutney and spicey onions.
Cottage of Fries: It is more than what you can expect, i.e. crispy fries, small tikkis, potato wedges and nachos with salsa and mayo dip.
Paneer Tikka Pizza: I personally did not like the pizza because it had an authentic Italian taste while I prefer Indian-themed pizzas.
Kadhai Paneer: Mouth-watering and just wonderful. Got it packed and ate it later on. Couldn't waste it, of course.
Garlic Naan: Crisp and had the right garlic flavour.
Rumali Roti: A little thick than expected, but cooked pretty well.
Fried Ice Cream: First ever experience. It is a must-eat! Don't forget to order.
Beverages: Definitely need to work a little on them

Peanut Butter and Oreo Shake: A little like mild milkshakes. Had the right flavour of peanut butter, but the Oreo part missed the cut.
Ultimate Shake: Similar thoughts as above. Can improve a lot by adding a few scoops of ice cream.
Virgin Mojito: Simply perfect and a treat for the tongue.
Virjin Sangria: A little too sweet, but the serving and the look was beautiful.
Lemon Iced Tea: Pretty texture. Delicious taste. The right thing!
Check out the images given below: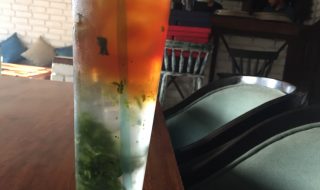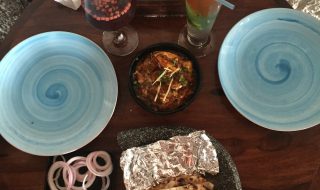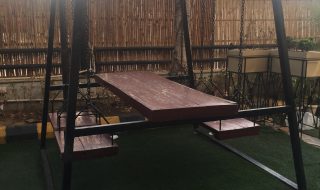 Things I will love to order again:
Kadhai Paneer
Lemon Iced Tea
Virgin Mojito
Fried Ice Cream
Galouti Kebab
Cottage of Fries
and I guess, this says it all.