Although this fine-dining delight finds its space on the Lake Blve Road, Hiranandani Business Park, Powai, the interiors, aroma and the delicacies will make you feel as if you're inside a restaurant of a Middle-Eastern country. The elaborate menu has a plethora of dishes, beverages and desserts, all from the Egyptian, Turkish, Lebanese, Moroccan and Greek cuisine. The outlet is quite popular in its vicinity and draws in patrons, who love authentic Middle-Eastern food, from all over Mumbai.
Ambience:-
Bayroute has an exquisite and resplendent ambience having both indoor and outdoor seating. The interiors appear to be straight from the set of a Wes Anderson film with a similar colour and symmetry. We went for luncheon and the space receives good natural light which is highlighted through the white curtains. The lightings on the interior are magnificently aligned especially the signature lamps and balloon-shaped light holders. There is a well-lit open bar as well and the music in the background is pleasant. Overall, the ambience is sumptuous and special attention is given to the details depicting Middle-Eastern designs.
Rating: 5/5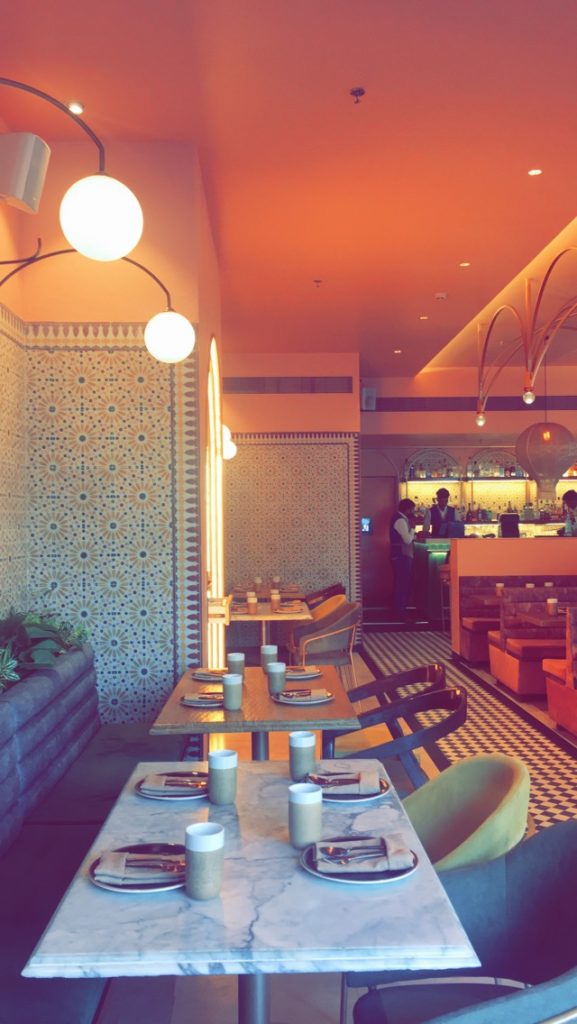 Service and Staff:-
Our table was managed by Mr Adinath who was extremely courteous and friendly. He recommended us most of the dishes and beverages listed down below and also patiently explained its ingredients. The menu is quite tricky and elaborate so he assisted us with that. The chef Mr Hari made some delectable dishes and the service of which was prompt.
Rating: 5/5
Cocktails:-
1. Sumac De-Light: Sumac comes from the berries of a wild bush that grows in parts of the Middle East, notably Iran. It has a balanced tangy lemon flavour. In this particular drink, the Arabic Sumac gel is used along with half-Gin and half-Vodka, shaken to perfection with fresh pomegranate juice and tamarind. The drink has both the sour and sweet-tasting ingredients and blending it in the right proportion is the key. Props here to Mr Rohan who made this delectable drink that was vivifying in all aspects. The presentation of this cocktail with cold smoke is totally Insta-worthy! Definitely recommended!
Rating: 5/5
2. Palm Islands: Firstly the presentation of the drink is perhaps the best I've seen having the drink served in a coconut shell placed on a wooden tray which is sprinkled with coconut shell powder (depicting the sand) and a miniature plastic palm tree, thereby, depicting an island. The drink is a rum-based cocktail having fresh coconut and pineapple juice. It's well-mixed and an absolutely refreshing cocktail which is perfect for the upcoming summers.
Rating: 4.8/5
Mocktail:-
1. Greek Goddess: It's a great blend of vanilla greek yoghurt with wild berries and a hint of mint; garnished with three berries on a stick. The mocktail has a creamy texture and a flavourful taste which is sure to please the palate of all berry lovers. Must try!
Rating: 5/5
Appetisers:-
1. Hummus Bayroute with pita and farm-fresh: It's Bayroute's signature dish having the delicious and creamy hummus with greek yoghurt labneh swirl, sprinkled with some za'atar herb, parsley and roasted pine-nut. It is served along with a breadbasket of four soft pita bread and a platter containing some raw veggies as an accompaniment. Bayroute's hummus is absolutely scrumptious and easily the best I've tasted in Mumbai; it's a signature dish for a reason. The fresh pita bread is extremely light on the bite and its combination with the hummus is heavenly. I'd highly recommend it.
Rating: 5/5
2. Sebze Kebabi: The dish was presented to us on a hanging skewer stand having Syrian spiced rubbed and fire-roasted florets of broccoli, cottage cheese and baby potatoes, served with Zaytun Labneh as an accompaniment.  All of the three were well roasted, evenly spiced and absolutely toothsome. The paneer was creamy and soft, the baby potatoes flavourous and the highlight being the broccoli that was absolutely toothsome. Definitely a must-try dish!
Rating: 5/5
Main Course:-
1. Koshari:  Koshari is the National dish of Egypt that originated during the mid-19th century. It is a multicultural mix that combines Italian, Indian and Middle Eastern culinary elements. The main-course dish consists of rice, lentils, tomato sauce, chickpea, and golden fried onion, accompanied by lemon chilli garlic sauce. The aroma is appetizing and the dish is highly pleasant to the taste. The sauce here enhances the flavour of the already delish and well-cooked rice. Overall, the dish is scrummy. Must try!
Rating: 5/5
Dessert:-
1. Baklava: The dessert is a rich, luscious, and a layered phyllo pastry having Iranian pistachio and almond with a layer of gulkand ice-cream in between and topped by rose brittles. Baklava is crisp, tender and not to overly sweet, making this Middle-eastern delight the highlight dish of the luncheon. Can't recommend enough!
Rating: 5/5
In conclusion, Bayroute's Powai outlet is just splendid with its courteous staff, swift service, scrumptious servings and resplendent ambience, making it a perfect place for anniversary dinners, date meets, a family outing or even a casual luncheon. It's truly one of the best places in Powai.
Overall rating: 5/5
Smakelijk eten!