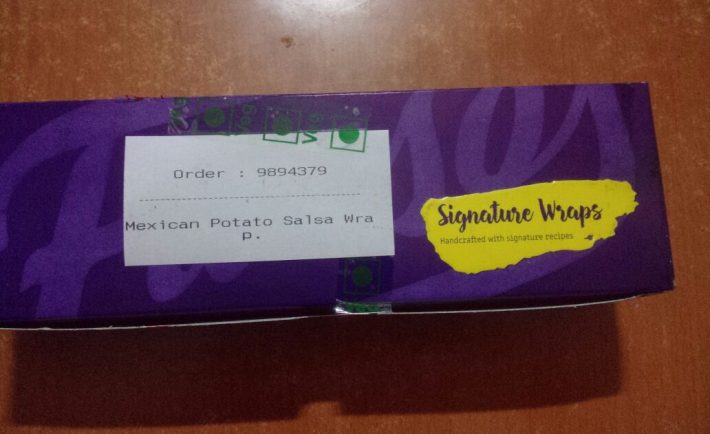 I ordered food from Faasos yesterday evening as I was damn hungry and too tired to go out of my home. The online ordering system perfectly suit people like me. After going through their pretty versatile menu , I decided to place the order for Faasos Wraps. I ordered Mexican Potato Salsa Wrap and Chicken Wrap. I must say the service was prompt and the packaging was fabulous.
About the Faasos Wraps that I ordered
Mexican Potato Salsa Wrap
First and Foremost , the ingredients were fresh and well cooked.I must give them credit for the styling and perfect  blending of the sauce , corn and potatoes. The Wrap is enough to satisfy your food cravings. The food quality is quite good. Also the wraps are decently dressed up.This veg  wrap had a good amount of crunchiness of potato and American corns. I totally loved the crunchiness factor about the wraps apart from the taste quotient. A good food item for veg lovers. I would give it a 4.5 rating out of 5 mainly for the crunchiness.
Chicken Wrap
The wrap comes rolled in paratha made out of maida. The maida paratha was well cooked and of good quality. Also it was soft and yum.The paratha was wrapped around tasty, tender , juicy and soft chicken pieces. The chicken quantity was quite generous. The wraps were perfectly mixed with chicken, onion and sauce. It was  totally mouth watering and was accompanied by a sachet of spice mixture for extra seasoning perfect to cater Indian taste and a ketchup sachet.I think this wrap can be eaten by two people. I think the price is justified considering the quantity and quality of food. I guess they wrap is best one that I have eaten in recent times. I would give it a 4.5 rating out of 5.
I definitely recommend it .