Arbab is suited at the prime location of Waterfield Road in Bandra West. It's probably the only casual dining place in the vicinity that serves authentic Arabian and Lebanese cuisine. They have a compact menu having all the prominent and scrumptious Lebanese/Arabian dishes & beverages. The place is sure to make your dining experience worthwhile with their flavorsome food, quick service, and open-air ambience.
Ambience:-
With all the decorative lamps/lanterns, wooden furnishing and potted plants placed in the curved perimeter of the place; this quaint restaurant has an old-worldly traditional vibe to it. It has an open kitchen where all the staff is seen wearing a red fez/tarboosh which is a headdress in the shape of a short cylindrical hat.  The place has a limited but adequate amount of seatings which usually gets occupied in the late evening, especially on weekends, with the number of footfalls the restaurant receives. Overall, the aroma and ambience of this place will definitely impress you.
Rating: 5/5
Service: –
The service here is impeccable! Despite the number of patrons coming in, the service was prompt. The manager here was polite, friendly and courteous. He didn't just serve us but also was patient enough to explain to us about the dishes.  I was highly impressed by their service.
Rating: 5/5
Beverage:-
Lemon Mint: The beverage was appetizing and refreshing at the same time. It is a good blend of ice fresh mint leaves, drops of mojito syrup, drops of lime and garnished with fresh lime on top. It has a distinct piquant taste which is sure to please your taste buds.
Rating: 5/5
Food:-
Cold Mezze Platter: First came the bread basket which consisted of two bread varieties, namely: Khubz (2) and Saj (1) bread. The platter has Hummus Beiruty (hummus  with chopped parsley, garlic and lemon juice), Falafel Fattoush with exotic veggies, all-time favourite Tabbouleh salad (made with flat parsley, tomatoes, mint, onion, bulgur, and seasoned with olive oil, lemon juice, salt and pepper), Baba Ganoush, Mutabal (Middle Eastern Eggplant Dip) and Batata Harra ( consists of potatoes, red peppers, coriander, chili, and garlic which are all fried together in olive oil). The overall veg platter was filling and toothsome.  The quantity is sufficient for two people and is sure to delight you with its flavourful hummus which is one of the best I've had.
Rating: 5/5
Lamp Kebab: The tender lamb cubes and shish taouk on the skewers were well marinated in garlic & chili paste along with middle eastern spices. The cubes were succulent and had a smoky flavor to it. Delectable affair!
Rating: 5/5
Dessert:-
Mahalabia: It's a Middle Eastern-style Milk Pudding which consists of Lebanese cream milk, drops of lime, drop of rose water, blended with a bit of strawberry syrup and topped with crushed pistachio. It's quite a popular dessert in Middle-East which I tried for the first time and it was rich and luscious in taste. Definitely, a must-try!
Rating: 5/5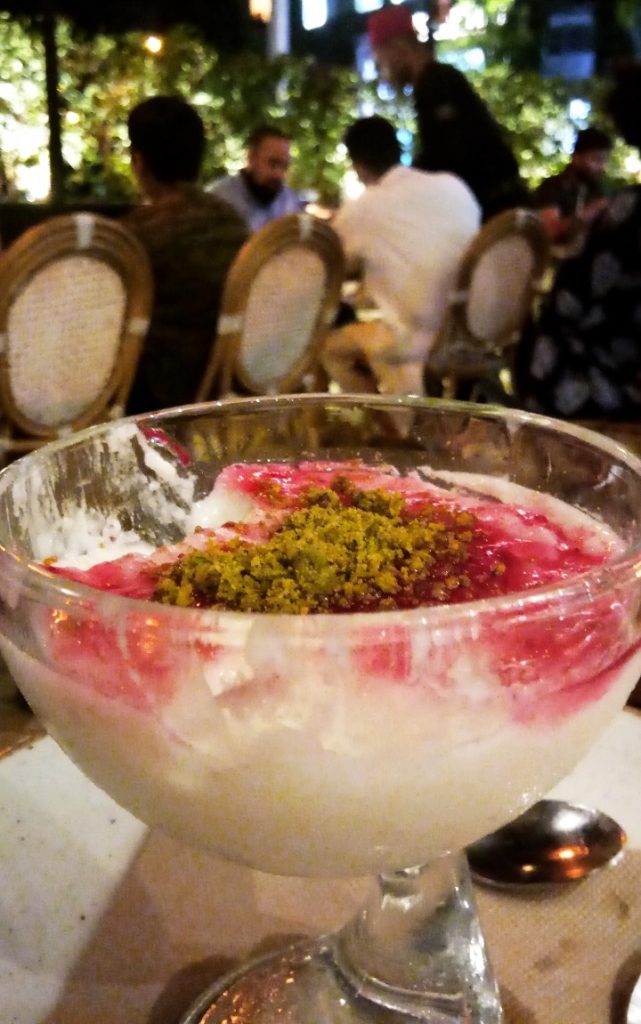 Overall, If you're scouting for the best places to taste Lebanese/Arabian food then this place is a must-visit with your family and friends.
Overall rating: 5/5
Smakelijk eten!