'145' is a brand in itself whose popularity has made its way to be featured in the 'Best of Mumbai' collection. After its successful presence in Pali Hill, Bandra West and in Kala Ghoda, Fort; 145 has extended its presence in Veera Desai Area, Andheri West and Kamala Mills Compound, Lower Parel. I visited 145 The Mills in Lower Parel on the occasion of my birthday and it was truly a magnificent dining experience with scrumptious food, splendid service, and resplendent ambience. They have a variety of cuisine options on their outspread menu, namely, Modern Indian, American, Mexican and Asian. The casual dining + bar is open from 12 noon to 1:30 am, which explains the tagline ' noon to moon.' It's a perfect place for a corporate gathering or just a casual meeting place and I truly had a memorable experience at 145.
Ambience:-
The place is quite spacious with a huge open bar right at the centre of its premise. Around it is the well organised and comfortable seating area with enough space on the aisle. The place has a contemporary decor set up with well-lit lights around the tables & bar and dim lights near the aisle; giving it an ambience of a lounge. The designs on the walls are quirky,  artistic and aesthetically pleasing. The highlight of the ambience is the swanky pool table adjacent to a bookshelf, having some quality collection of books, where one can spend time between orders. They have three TV screens where they re-run episodes from Tom & Jerry and Charlie Chaplin; taking you down the memory lane. Overall, the magnificent ambience is sure to make your dining experience worthwhile.
Rating: 5/5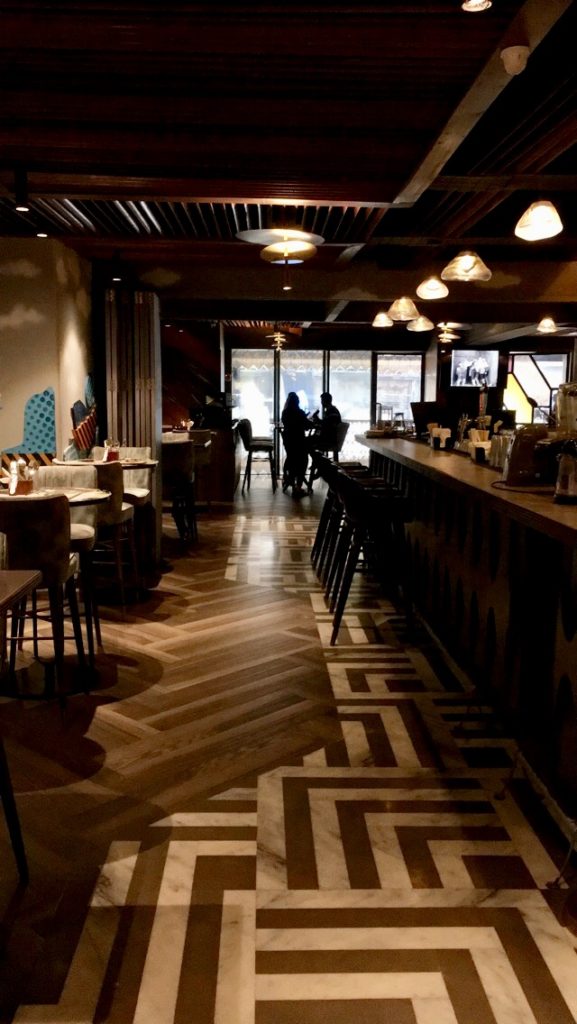 Service:-
Our table was managed by Mr Ravindra and Sachin and both were impeccable in their service. The orders were promptly brought, credits to the chef, and also they had a birthday candle in handy upon asking, which shows their preparedness. Mr Pasil who manages the place was friendly to us. Overall, the service here is splendid.
Rating: 5/5
Cocktails:-
1) Jalapeno Teqila: The drink is newly introduced in the menu and its truly a unique cocktail. It's a variation of Margarita with spicy jalapeno salt sprinkled on the rim of the glass and a piece of jalapeno inside.  If you'd like a spicy twist to your regular Margarita then go for this one.
Rating: 4/5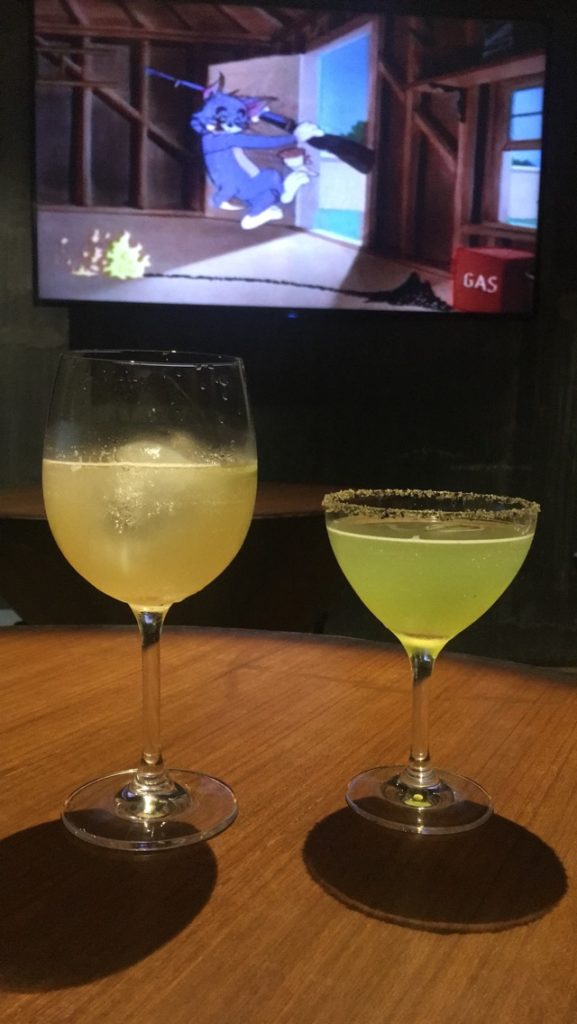 2) Citrus Clove G&T: It's a highball cocktail made with gin and tonic water poured over ice. It's blended and garnished with some Yuzu ( citrus fruit) and cloves on top for a subtle citrus flavour.  I personally liked this cocktail better for its citrus after taste.
Rating: 4/5
Starters:-
1) Paneer Pasanda Bao: The steamed bao buns were extremely soft and light on the bite and had a filling of the medium spicy paneer pasanda. It's a perfect merging of North Indian and Chinese cuisines, as these Baos are so versatile that you can stuff anything in between and enjoy! It's a delectable and mouth melting affair which I'd definitely recommend.
Rating: 5/5
2) Avocado Sandwich: It's again a newly introduced healthy dish on the menu which is gluten-free. The gluten-free bread was rightly toasted having a layer of Avacado paste on top with some dried tomatoes, lettuce and feta cheese. The quantity of feta cheese could have been more here but overall the sandwich was absolutely scrumptious in taste.
Rating: 4.5/5
3) Reshmi Broccoli: Broccolis are my absolute favourites and this particular dish was perfection. The chunks of Broccoli dipped in cream and yoghurt with some spices were lip-smacking and toothsome. It was served along with with some mint chatni and finely chopped onions with which it tasted even more delicious.
Rating: 5/5
Main Course:-
Wild Mushroom Truffle Pizza: The eight slices of wood-fired thin-crust pizza having a layer of cheese with two edible mushroom varieties, namely: portobello and shitake, in burnt garlic with truffle oil tasted scrummy and flavoursome. It's light on the stomach as it's thin crust and it's made with a minimum quantity of oil. Mushroom lovers should definitely try this signature pizza.
Rating: 4.5/5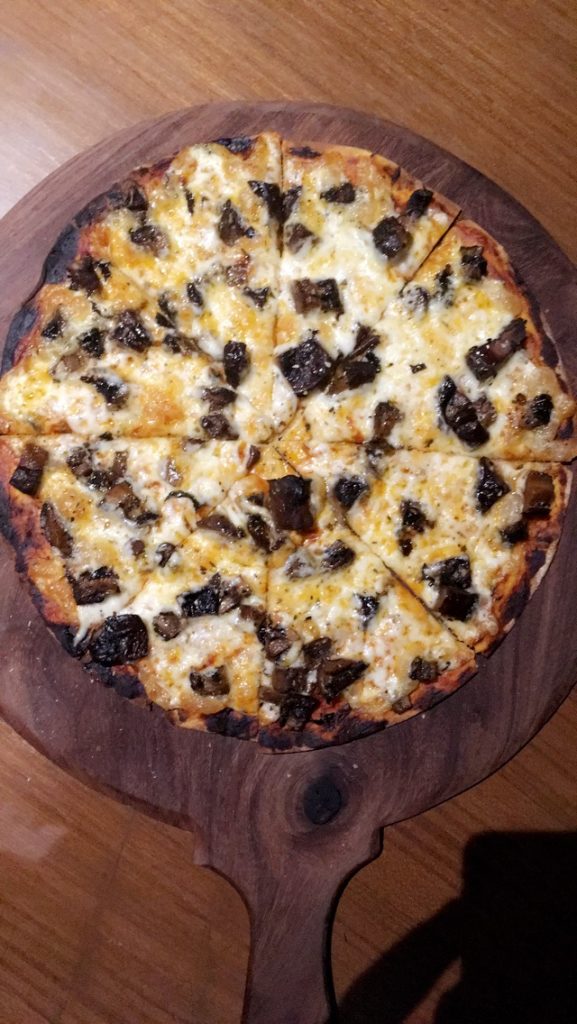 Dessert:-
1) Four Layered Chocolate Bomb: This is all I could ask for on my birthday. It includes layers of white chocolate, dark chocolate, red velvet and a layer of chocolate brownie which is rich and luscious in taste. It's topped with a zig-zag layer of chocolate sauce which enhances the taste even more. The sweetness is perfectly balanced, the dish was well presented and it's a MUST TRY!
Rating: 5/5
2) 145's Signature Cheesecake: It's a house special cheesecake topped with a strawberry compote and served along with finely chopped pieces of kiwi and other mixed fruits. The combination of fruits and cheesecake was surprisingly flavourful. The cheesecake was just as it should be: soft, creamy and luscious.
Rating: 4/5
Also, towards the end, we were served orange and lime Pepsi cola which got us reminiscing of the 90s.
In conclusion, the place truly made my birthday a memorable one and I would definitely visit it again for its scrumptious servings.
Overall rating: 5/5
Smakelijk Eten.