The private blogger table at Chaayos was a completely unexpected experience. I went there with my friend, and we were wowed with the food and shakes that they have to offer.
To me, Chaayos was always a place to visit when I would like to eat home-like Poha, but my mind was entirely blown. Poha was not even on the top 5 dishes that I had wished to order, after checking out their menu. We started with the three new shakes that they have introduced: Cake Shake, Kulfi Shake and Motichoor Shake. Yes, I was taken a back with delight too!
The Cake Shake was just perfect. It had the right amount of chocolate, thickness, texture, flavour and tangy-tingy hint of orange. It was by far one of the best chocolates shakes that I have tasted, if not the best!
The Kulfi Shake had a mild flavour of the beloved Indian ice-cream, Kulfi. They can do a little more with its flavour.
The Motichoor Shake was one of its kind. It was like a liquid Motichoor Ladoo, made from in-house boondi.
Then, we ordered Kulhad Butter Chicken Kulcha. It was served in amazing kulhad cups, sufficient for two, and tasted pretty good too. It was accompanied by Palak Patta Crispies, which was also a unique dish. Quite similar to a Masala Papad, but with a different flavour. It had a sweetish touch to its after-taste. It was a mix of toppings (Bhujiya, Olives, Green Chutney and Onions) on a spinach leaf.
Then came the beautiful Kulhad Pav Bhaji in similar kulhad cups. It tasted as delicious as it looked. It was accompanied with kadhai Paneer Parantha, which is basically a Malabar paratha, topped with Kadhai Paneer. It looked like a pizza, and had a fantastic taste too.
We ordered two more beverages to calm down our taste buds: Chikoo Shake and Modinagar Shikanji. They both were pretty good too. I am not very fond of Chikoos, but I gladly finished my shake, so that in itself speaks about its taste!
The desserts were mouth-watering too. We ordered Kulhad Wali Jalebi and Moist Chocolate Cake. The Jalebi had the right crisp, sweetness and texture, while the cake was similar to a local shop lava cake. That does not mean it tasted bad, but it was just not that unique, as compared with the other dishes.
Ambience of the place was quite decent with tea kettles hanging from the ceiling and funky posters all around the place. They have a nice collection of packaged products like Poha and Masala Chai etcetera as well. A little work can be done on the ambience of the place to make it feel more casual.
Winner of the Experience were the following:
The Cake Shake
Kulhad Wali Jalebi
Kulhad Butter Chicken Kulcha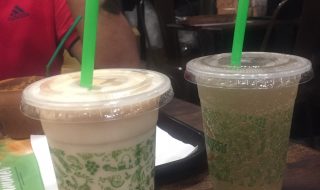 Suggestions:
They should put more thoughts in making the flavour of Kulfi Shake as delightful as other shakes.
They should reduce the serving size of Palak Patta Crispies.
They should do something creative with the Moist Chocolate Cake.
They should have a little bit of ambience music to make the environment as cheerful as the food.
They should serve the paranthas with mint sauce or mayonnaise to add to its experience.
After having my stomach-full, my mind was still drooling over the sandwiches, which is why, I ordered a Kadhai Chicken Sandhwich too. It was a takeaway, which was ordered as a midnight snack, but was later consumed in the morning as the perfect Saturday Breakfast. Though, I wished to have that Cake Shake to go along with it too.
Advice:
Prefer Takeaway over dining there itself because the ambience is very simple and they have a really cute packaging design too!