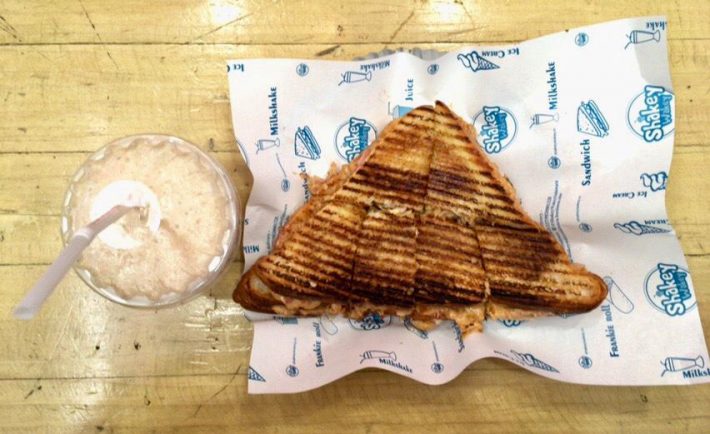 It's the season of scorching heat, humid weather and mangoes, so if you're looking for a chill place to sip on some summer coolers and shakes with some light bites to go along with it then Shakey Wakey is the cafe for you. The interior is vibrant and well lit. The staff is warm, friendly and are prompt in their service. Also, this mango season the cafe is offering some amazing variety of mango beverages like Mango milkshake, Mango juice, Mango Django ice-cream sundae, etc which you should surely check out!
We ordered:-
Carrot beetroot pineapple mint:
Carrot and beetroot is quite a common drink so I opted to taste the combination with pineapple and with it; it was absolutely delectable and refreshing. The flavour of the mint thankfully didn't come out strong as the blend was well balanced. If you are looking for a healthy juice option, this is my recommendation for you.
Anarkali
A blend of fresh Anar, Apple, Pineapple was flavoursome in all aspects. It's a sweet tasting and refreshing drink which is best suited as a summer cooler for this season.
Paneer cheesy bbq sandwich:
This is probably the best sandwich option you can go for from the menu as it was absolutely scrumptious. The generous amount of paneer, a layer of cheese in between the sandwich and the veggies really brought out the taste as expected. Overall, I'd highly recommend it.
Note: Both white and brown bread options are available for the sandwiches here.
Ferrero Rocher shake
The rich and luscious taste of the shake had my heart. The shake was thick and the small granules of Ferrero Rocher in every sip were heavenly. I would highly recommend this one!
Mango cream: The base consists of fresh Alphonso mango pieces with cream, mango ice-cream in the middle layer and topped again with finely chopped pieces of mango. The combination of cream and mango did satisfy my taste buds but the mango ice-cream didn't go along with the overall taste. I'd suggest going for the mango milkshake, that's topped with mango pieces, over this.
Overall, the cafe is a great place to grab a bite and sip on some delicious beverages with friends and family. I'd definitely recommend it!
Overall rating: 5/5
Smakelijk Eten