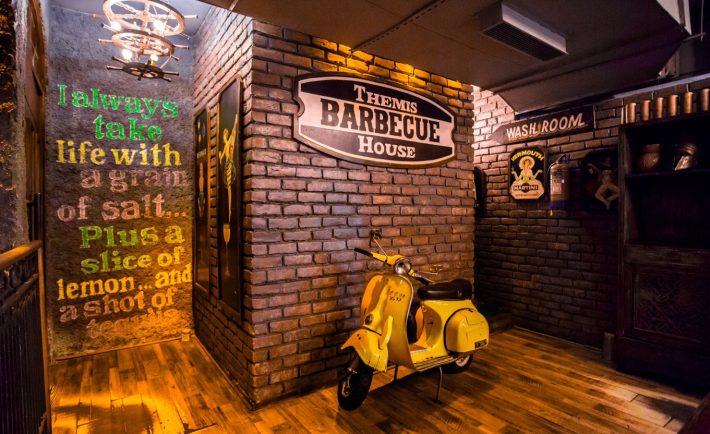 Themis Barbecue House Review
I went to this amazing place with my partner because Themis Barbecue is well known for its fascinated ambiance and everyone's favorite Rooftop Area concept in Netaji Shubhash Place. Themis Barbecue is famous for its great ambiance, quality and taste of the food.
We were warmly welcomed by some gentlemen and we both had our seats and being a foodie, I didn't took much time to choose the classic non vegetarian buffet for both of us. Waiting for the arrival of food, we both were enjoying the Live Hindi Song, and that was really calming down our mind, but not our stomach :P.
Soon after that, the food arrived and we were served with Virgin Mojito at first. One thing i must say that, the staffs are really so cool and frank, they were doing their best to keep us engaged with the food, and thats what everyone wants right?
Now lets talk about what i had after that. A huge lineup of starters came after one another and was served very warm (as there was a barbecue grill inside the table). The starters were as follows:
1. Chicken Tikka
2. Chicken Malai Tikka
3. Mutton Kebab
4. Prawns
5. Fish Fries and lot more.
These starters can be repeated, so we repeated it twice and after that we were full.(It was that much tasty)
Every thing was too damn tasty and i have personally liked the Chicken Malai Tikka. The quality of the food was at the top notch. I really enjoyed every bit of the food which I was having. No matter wherever I visit in future, I will surely remember the amazing food, ambiance, Songs and every corner of this restaurant.
So lets come back to food again. After those starters, we jumped to have the main course, for which we chose the Chicken Biryani, with Butter Chicken and Chicken Curry also. The taste was too damn amazing and i really loved the quality of the food, and the maintenance of the food.
After that heavy main course we need to close our "shutter of hunger" and then we finally decided to have the deserts, for which i took the Brownie and Vanilla Ice cream. I also tried the Cakes and other fruit tarts and deserts available.
---
Themis Barbecue House Review | Overall Ratings
Quality: 8/10
Service: 8.5/10
Food: 9/10
Value for Money: 9/10
---
Checkout this Full Themis Barbecue House Review and Also Watch Other Reviews:-