"Mosaic" – a well maintained place offering pool, fitness centre, dining options and the luxurious rooms for stay, great place for get together with your family, folk, corporate groups.
The hotel is pretty close to Great India Place, Noida. Google map gets you there pretty accurately.
Ambience is really very fancy, good enough to impress you and the outlook is great treat for our eyes, has extended lobby separated by M Lounge from the reception. It's been done up well with a couple of tables surrounded by huge couches. Large mirrors adorn the wall and beautiful lamp shades hanging from the ceiling covering bright yellow lights is a pleasant sight for sure. A bar besides the table with couches adds to the aura of the place.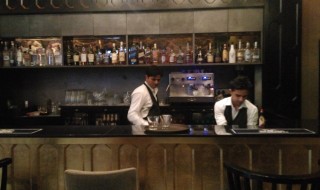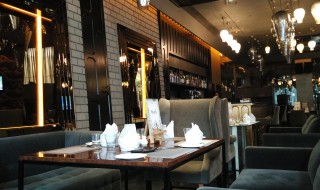 FLUID lounge and Bar – serves local and regional dishes, suitable for all age group, perfect set up for a casual dine out or an overflow of meetings or party. One can get the great options of quick meals.
LATITUDE Restaurant – offers Indian cuisine, M Lounge – The pastry shop which offers desserts and pastries.
Service is really good, staffs are quiet efficient and polite .
We were there to taste the menu which focuses on desi videsi fusion in a way to match everyone's need.
Mr Arun Khurana, Cluster General Manager, joined the table with us.
Also, Mr Nishit Surya – F&B Manager was there for the assistance.
Food at Fluid:
Started with the complementary drink pink lady served in liquor flask. It was really refreshing.
Then the Amuse Bouche ( a puff ) was served in the miniature model of an Iron (Press).
Next was basil flavoured tomato shorba served in a small skull shaped glass. It was served hot and we loved the flavor.

Post this baked fish, chicken khurchan tart, chicken tikka quesadilla, chicken spring rolls arrived which were all so yummy and had the right blend of spices, chicken/mutton were tender.
Then was turn of veg food items. We tried achari paneer tikka tart, chatpata matar paneer quesadilla and all of these were irresistible.

Non-vegetarian has perfect option of Mutton Boti Taco and vegetarian indulgence is Matar Mushroom Taco.
Then we were served with the dessert – gulab jamun cheese cake & strawberry mousse. It was ok, a little bit work can be done on the dessert part.
Food is really good and enough in quantity as well. It is definitely worth the money you spend.
After food, we took a visit to Lattitude, rooms and Fluid interiors which includes private dining area, swimming zone and lounge area. They also provide great deals and services for get together/corporate meetings in private dining area . The Exclusive Private Area is equipped with a fully movable set up that can be fine-tuned.
R4Review would recommend you to come with your family, friends, office folks and enjoy the most of these food items, ambience, stay at the most exciting prices at Mosaic and walk away with a wonderful memory of all times.
Overall nice place to party and stay!