East Asia – The Asian Fanfare.
Address:-
Shop 15, Om Satyam Niwas C.H.S.L, Shimpoli Road, Borivali West, Mumbai.
East Asia – The Asian Fanfare, is literally a breath of fresh air filled with aromas of Pan-Asian cuisine in the vicinity of  Shimpoli Road, Borivali West. It's a newly opened restaurant with their USP being the only restaurant serving 'quality' Asian, Chinese, Japanese, Korean and Thai cuisine, all under one roof in its located area. Note that it's a 'Vegetarian Only' restaurant with Jain option available on some dishes of their fairly priced and outspread menu.
The minimalist Christmas decoration coupled with the string of well lit bulbs on the outside gave an inviting vibe as we entered the restaurant for a Sunday brunch. The huge 'East-Asia' logo with a backdrop of circular wooden carved  button-like patterns gave an aesthetic look to the whole place. The interior is exquisitely done with wooden frames and metal artwork on the walls. The beverage section especially is the highlight, with shimmering glasses and bottles inside a well-crafted black shelf. The restaurant is spacious with enough area on the aisle and for seating. The seating is extremely comfortable  with back rest which makes the whole dining experience pleasant. Upon inquiring, the management team consists of people from interior designing background which all made sense. It's well- thought out and detailed interior.
Rating: 5/5
We were ushered to the table by a staff member named Satish, who was warm and courteous  in his approach.  He recommended us a variety of dishes to taste and also explained the key ingredients of every dish. The service was prompt and the entire staff was welcoming not only to us but to other patrons as well. We also happen to interact with the people from the management team who explained us the concept of the restaurant, which was to bring the best of Pan-Asian flavors on our platter. We had a brief conversation with them about different cuisines and they too were affable.  Overall, the service was pleasant.
Rating: 5/5
East Asian Delight soup: A healthy combination of spinach, roasted almonds and edamame was a delicious affair. Usually I have hard time having an entire bowl of soup loaded with spinach but in this case the flavors blended really well and I slurped it in no time.  This aromatic and flavorful soup was filling and I'd highly recommended it.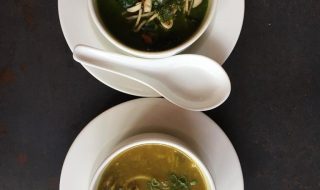 Rating: 4/5
Udon Noodle Soup: It's the highlight of the soup section especially if you are into Japanese cuisine. The well-cooked wheat noodles, precisely sautéed golden mushrooms, onion and  minced ginger, garnished with leek was absolutely scrumptious. The chef did an impeccable job while making it, as savoring this lip-smacking soup was the best part of the lunching experience. This is a MUST have.
Rating: 5/5
Som Tam salad: It's a staple dish in the northeastern part of the Thailand and one of the mildest versions, amongst the other Thai salads, in which the dressing is sweet and sour.
It's made of raw papaya dipped in traditional sour and spicy marinade which gives you a tangy flavor coupled with some cherry-tomatoes, carrots and garnished with beans and chilly. This toothsome salad will definitely find a place on my platter in my next visit.
Rating: 4/5
Paneer Satay: The paneer was well marinated and was served on a skewer which was dipped into peanut sauce. The Indonesian spices gave a distinct flavor to the dish which made it extremely delectable.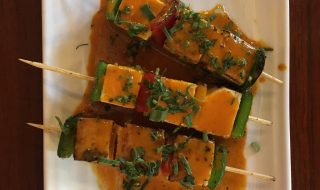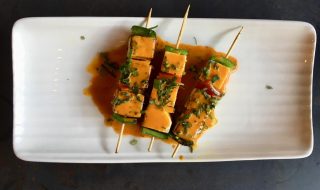 Rating: 4/5
Avocado Cream Cheese Sushi: The presentation of the dish was as exemplary as its taste. A mixture of  rice, avocado, cream cheese, garlic, cucumber , onion, sprinkled with a generous amount of sesame seeds was luscious and I savored it thoroughly with soy sauce and wasabi which gave it a distinct taste.
Note: Consume only a slight portion of wasabi if you don't want an irritation in the nose. Trust me you don't want to mess with wasabi.
Rating: 4.5/5
Nasi Goreng:  Nasi goreng, literally means "fried rice" in Indonesian and it's one of the best main course options you can go for in the menu. The fusion of rice, soy sauce and exotic veggies blended really well and was appetizing. I loved the quantity they served and it's definitely filing. It was topped with two cottage cheese skewers which actually were sautéed well but the sauce in which it was covered didn't go well with the taste of the soy rice. Nevertheless, the rice was flavorsome and I can't recommend it enough.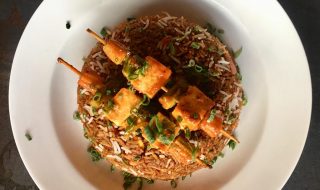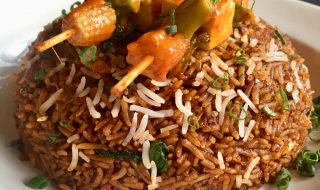 Rating: 4.5/5
Chocolate Sushi: At first I was skeptical to order but when it arrived, the presentation itself was mouth-watering. It's basically a crispy cake filled with chocolate which is covered in chocolate sauce. It's honestly one of the most unique dessert options that will definitely satisfy your sweet-tooth.
Rating: 5/5
Lastly, it was an impressive lunching experience with fine service, splendid ambience along with palatable, appetizing, and tasty food made in hygienic conditions with quality ingredients. It's a value for money experience and I'll definitely recommend this place for a family outing or a late evening date.
Overall rating: 4.7
Smakelijk eten!