The Rooftop Project is a rooftop restaurant bar located in Pune. Last weekend we were called there for review with few other bloggers. We were offered to try various Mocktails, cocktails, veg and non-veg starters , main-course and dessert. Taste of everything was good but they need to work on the service.
The Review
The Rooftop Project is a rooftop restaurant located at Tej House of MG Road. Being the rooftop restaurant it was a nice feeling when we entered the place.
Our afternoon started with the lip smacking starters like Thecha naan, Malai Paneer tikka, Dim Sum , Amritsari Soya Chaamp. Thecha Naan was a naan stuffed with cheese and topped with thecha, it was as spicy as it is meant to be. Malai panner tikka was very soft and tasted great. Dim Sum looked to be plastic coated in first look but had good stuffing. Amritsari Soya Chaamp was vey spicy and it needs little improvement as it should have been a little less spicy.
After the starters ,it was time for main course. In the main course we were offered to try various combos like Paneer lababdaar, Dhaba style chicken curry, Prawns with thai curry. All of the combos have dal makhani, roti and crispy papads in common and really tasted great. But my favorite in all were Prawns with thai curry. We were also offered Chicken dum biryani to try. Biryani had proper dum and long flavourful rice.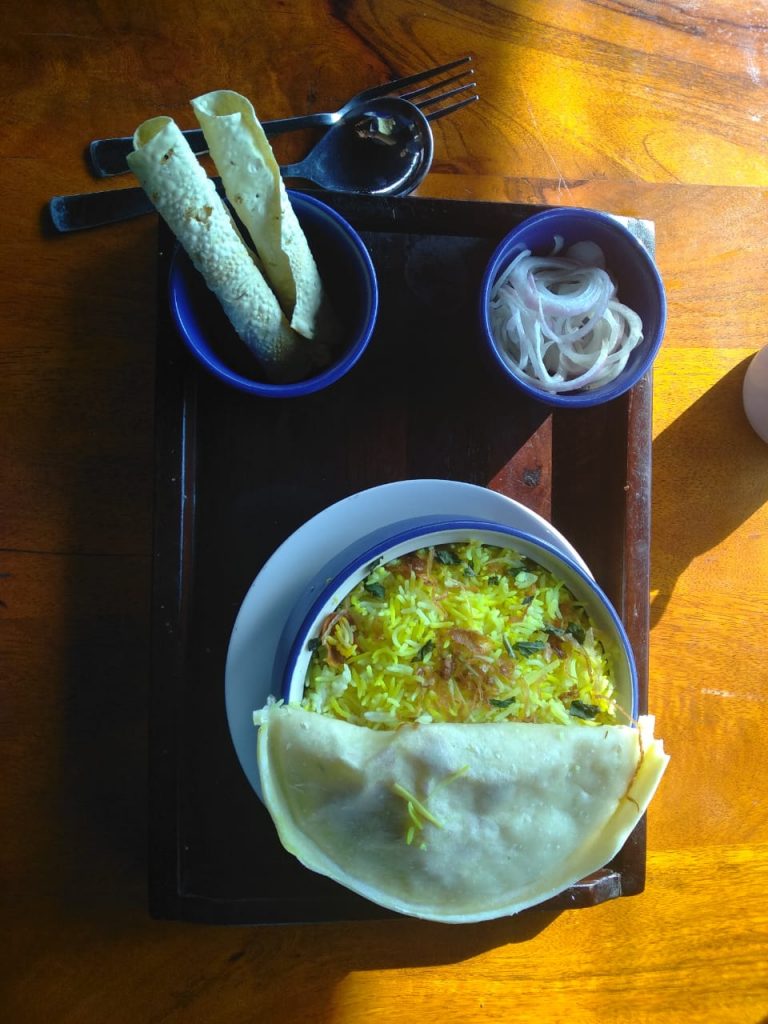 It was now time for desserts. And came Pan Kulfi, Chocolate Mud Pie. Pan Kulfi had nice flavor of pan and left a lasting freshness taste. It is a must try for the pan lovers. Chocolate Mud Pie had Chocolate coating on top of Vanilla ice-cream. The thick chocolate pie was a bit warm and tasted really great with vanilla ice-cream.
Overall the place was good with good ambience, food , starters and dessert. This rooftop place is a good place for romantic dinner or for a large gathering as it has lot of sitting space. Only thing that needs to be worked upon is some cooling options in day time as being rooftop it becomes really hot.