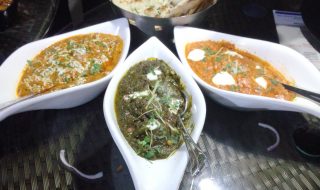 I have literally been to 80% of Mumbai's most famed Punjabi food hangouts. They also include the sister concerns of ParathasNTikkas, such as OnlyParathas. However, the baby cousin exceeds the others. The Punjabi meal served here is severed from heart- that's Punjabi for you! I actually felt that I'm eating in purani dilwali dilli and punjab's local dhaba. Although, it suits the classy Lokhandwala neighbourhood and uber Mumbai lifestyle, it gives taste of north India.
I've been missing tasty Punjabi food that I tasted at my dad's friend's home. No one can replace a Punjabi aunty when she decides to serve you from the heart, the flavors of love are there in the food. The same flavors I tasted in ParathasNTikkas for the dinner outing. I ate my heart out. For a two days, I'm on half of my regular meal. I am not sick, I'm just too happy. Now, without wasting your time and doing any further suspense. Here are the delicacies that I ate with my soul loving every bit of it.
I ate both veg and non-veg food because I was with my cousins. Some of them are vegetarians and being Indian we taste each other's food with proper hygiene and table manners.
So, here are some of them.
Vegetarian dishes of Punjabi Meal
Starters
Paneer Adraki Tikka: I like paneer, but this one was really fresh and tender. The flavors were nice and not too spicy. However, I would have preferred a bit more of a marinated flavor.
Parathas
Paneer with Spring Onion Paratha : I liked this one as it had more flavor and tasted juicy. The taste of spring onions was little less. But this one was full of flavor.
Non-Vegetarian dishes at ParathasNTikkas
Starters
Chicken Barra: I can call this a must eat. The chicken is tender although on the bone. It is juicy and the tastes spicy. It gives taste of punjabi masala more specifically Delhi masala. It has good marination and authentic taste.
Mutton Seekh Kabab: I liked the spices and marination. It was fragrant and delicious. However, it was dry and hard. I think they should work on the texture as seekh kababs are supposed to be tender and soft.
Parathas
Prawns, Onion, Pudina Paratha: This one was another of the delectable dishes that I enjoyed at ParathasNTikkas, the prawns were well-cooked, taste of onion and pudina was prevalent. I loved the spicy mixture and paratha was soft and not too chewy.
Mains
Butter Chicken: The butter chicken that you get at ParathasNTikkas is Delhi style. It is less sweeter than we get in Mumbai. In fact, it is spicier. The masalas that they used in this one were hot red chilli powder and garam masala.
Chicken Chatni Anardana: The five star dish of the evening was this one. It was hardcore Punjabi meal. There is no comparison to this Palak, spicy, anardana and tender chicken dish. I preferred this over Butter Chicken. The taste was simply incredible.
Overall, I would recommend ParathasNTikkas if you are looking out for  a hearty meal made from a Punjabi heart with Punjabi hospitality. I give them a five star rating hands down!