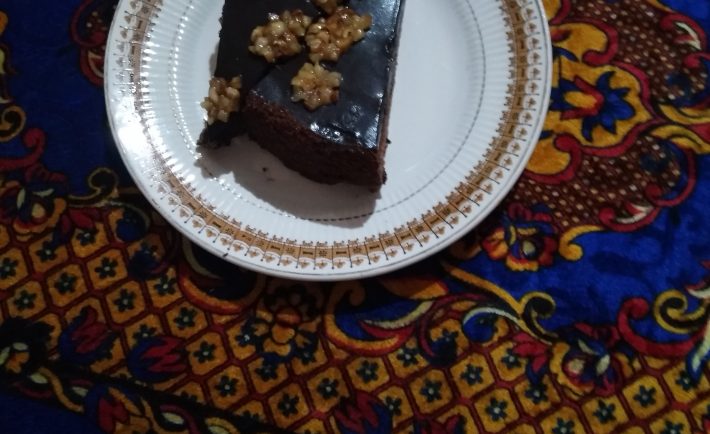 Sweet Truth is one of the joints which offers delivery services only.So, you have to place an order online. I placed one through Zomato. I must compliment them for the food delivery on the right time and in well packed boxes.
I  placed an order for  chocolate decadence and chocolate lava cake.Since, it was my BIRTHDAY, I decided to indulge in some sweet and high calorie food items.
Beside both the items looked  tempting and delicious.
Let me  tell you in detail about the  irresistible food items
Chocolate Fantasy: This Dessert  perfectly matched my expectations of a good chocolate  cake. In Fact , it raised the bar higher.The cake was well set  and had a very nice chocolate flavour. I must it was also perfectly baked.  It was creamy and there was this molten chocolate dripping through once you cut it. I loved the packaging also . It came in a nice silver coated box. It is also called as chocolate lava , in other restaurants. I  always want my Desserts to be optimum when it comes to sweetness, which I must say they achieved it. I would give Chocolate fantasy 4.0 out of 5 stars rating.
Chocolate Decadence : This item is totally yum.I liked it more than  the chocolate fantasy. It wa well baked and perfectly presented. I would definitely consider the presentation part while rating this tempting dessert. It was a pleasure to dig in and I couldn't stop myself.
The Cake was a quiet fluffy ,airy  and light. I think it was one of the best chocolate sponge cake  which I have eaten so far. I loved the chocolate creme in between the layers. The cake was topped with chocolate ganache, which added to the taste of the cake. It was decorated with walnuts , that made it look very good. Overall , I can describe the cake as divine at the top, totally yummy at the centre and perfectly juicy at the bottom. I will give it 4.5 stars out of 5 for the awesome presentation and delectable taste.
Both the desserts really made my day. I will definitely order again.