The Goose and Gridiron is a casual dining restaurant and bar situated in Fort that serves European, Continental and North Indian cuisine along with some lip-smacking desserts and drinks. Here, one can avail a 1+1 on the food menu with Zomato Gold Membership. The restaurant is located right opposite Sterling theatre and is at a 6 minutes walking distance from CSMT railway station. It is currently holding Sunday Brunches from 12 p.m. to 4 p.m. every Sunday until April 21st, where one can relish on Unlimited Food & Mocktails at Rs 900 per person and Unlimited Food & Beers & Sangrias at Rs 1,350 per person (all offers are exclusive of taxes).
Ambience:-
The shimmering fairy lights entangled with the vines of devil's ivy plant at the entrance gave an inviting and pleasant vibe to the overall ambience. I was truly transfixed at the sight of the radiant lanterns which were glowing in varied colors right near the entrance. This fine-dining restaurant has ample space with both indoor as well as outdoor seating available for the patrons. Overall, it has the perfect setting for an ideal date night in South Mumbai.
Rating: 5/5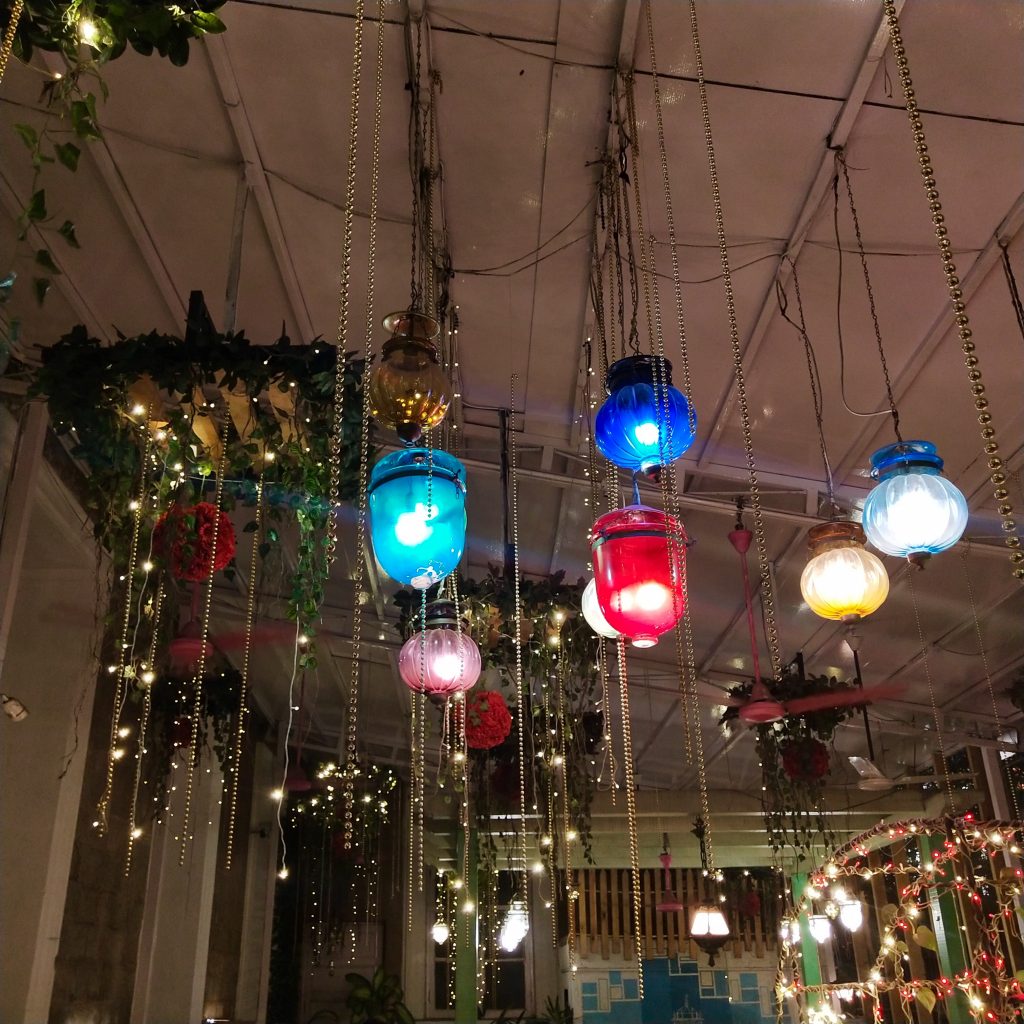 Service:-
We were served by a gentleman named Mr Pradeep, who was polite and courteous in his approach. He assisted us while selecting amongst a plethora of dishes from the menu and also recommended different cocktails. The chef, Mr. Nilesh, did a splendid job with the delectable servings and its presentation. Overall, the service was prompt and impressive.
Rating: 5/5
Cocktails:-
Cosmopolitan: A mix of vodka, triple sec, lime twist and cranberry juice was flavorsome in all aspects. The little chunks of ice in the drink enhanced the drinking experience. It's the best cocktail I've had and I can't recommend it enough!
Rating:5/5
Cotton Candy LIT:  A blend of Tequila, Light Rum, Vodka, Triple Sec, Gin and a splash of Cola was refreshing. It was strong at first but as you stir, it becomes mild. The LIT has its own distinct taste and is a perfect drink to have with the appetizers.
Rating: 5/5
Appetizers:-
Crispy Lotus Stem:  This scrummy dish consists of thinly sliced lotus stems which are stir-fried with flavorful sauces to give it a piquant taste. It was garnished well with finely chopped spring onion whites and greens. The lotus stem was crisp & tangy and it's sure to delight your taste buds.
Rating: 5/5
Middle Eastern Mazze Platter: The presentation of the platter itself was appetizing. I tried Muhammara, which is a hot pepper dip, for the very first time and it tasted absolutely scrumptious with the crisp lavash. A bowl of peppered pesto and creamy hummus also tasted delectable with the soft pita. Overall, the platter was filling and delicious.
Rating: 5/5
Main Course:-
Lasagne alle Verdure:  The vegetables were well cooked and a layer of it was placed in between the sheets of flat pasta, which was a little chewy.  The Lasagne was covered with a generous amount of cheese and was served along with two garlic bread slices on the side. Overall, the dish was good.
Rating: 4/5
Delightful desserts:-
Whiskey Chocolate Pate: This is probably the best dessert I've had in the longest time! It's basically a dense whiskey flavored dark chocolate ganache which will literally melt in your mouth. The texture was rich with a strong taste of whiskey in every nibble. A flat layer of Almond biscotti beneath the ganache, was entirely covered in chocolate sauce and was luscious in taste. Overall, the Whiskey Chocolate Pate is heavenly and is sure to satisfy your sweet tooth.
Rating: 5/5
Baked Coffee Rosgulla: This unique serving was the highlight of the entire dining experience. A bite of the coffee infused rosgulla with a spoonful of coffee ice-cream was toothsome in every aspect. The cookie crumbs sprinkled on the rosgulla made up for the crunch and were delicious. Both the desserts were amazing and drool-worthy! It's definitely a must try!
Rating: 5/5
Lastly, it was an impressive dining experience with a magnificent ambience, prompt service along with some scrumptious servings. It's perhaps the best fine dining restaurant and bar in South Mumbai and I'd highly recommend this place to be visited with friends and family.
Overall rating: 5/5
Smakelijk Eten!