Jazz & Blues is a newly opened musical theme based café in Shastri Nagar, Andheri West. It's the only café in its vicinity where you can unwind with some scrumptious servings, from their fairly priced and outspread menu, while listening to some popular jazz and blues tracks. The café also conducts regular open mic evenings especially on weekends where budding artists gather to jam and play some of their original songs as well as covers of popular tracks.
Ambience:-
The USP of this café lies in its ambience and theme, as it's the only café I've visited that's centred on music as a theme. The café has ample space with both indoor as well as outdoor seating available for the patrons. As you enter the café, you're welcomed with a string of lights with hanging golden stars, a line of illuminated white street lamps, a red and white themed décor and an antique gramophone which gives a homely American vibe to the overall ambience. The café is conceptualized by the owner himself and it's impressive, especially the wallpapers of 'The Beatles' and 'Madonna' on each side of the wall along with a ukulele clock which was eye-catching. The kitchen area on the inside is well-organized, hygienic and clean. Overall, the warm and inviting vibe of this cosy café had my heart.
Rating: 5/5
Service:-
A gentleman named Sunny, who's the owner and manages the café, was friendly and soft-spoken to us. He explained the idea behind the café which is to bring people together through food and music and that's impressive. The service was prompt and the entire staff was welcoming not only to us but to other patrons as well. The chefs of the café, Pawan and Santosh, did a commendable job with their delectable dishes and beverages. Overall, the service was pleasant.
Rating: 5/5
Beverages:-
Strawberry Milkshake: The refreshing blend of fresh strawberry pieces with milk, made it thick and one of the most delectable shakes I've had since a long time. At just 129 rupees (current price) this is probably the best shake a café has to offer. This is a must have beverage and I can't recommend it enough.
Rating: 5/5
Lime Ice-cream Soda: The blend of club soda, vanilla ice-cream scoop, water, sugar and lemon juice was luscious and flavoursome.  Keep note that you order it when you're ready to drink else all the fizz from the soda will evaporate. The generous amount of quantity at just 99/- is unheard of and a must have!
Rating: 5/5
Carrot- Beetroot Juice:  This is a heavenly combination of beet pieces, carrot and ginger served along with ice which makes it one of the most refreshing and healthy vegetable juices.  It's rich in nutrients and a detoxifier, making it a perfect summer cooler. This is sure to delight your taste buds.
Rating: 5/5
Oreo Milkshake: It was rich in taste with a fresh blend of vanilla ice-cream, oreo pieces, milk and chocolate sauce.  The shake was thick and wasn't over-sweet, which is the case with most of the oreo milkshakes, unlike this one. You can have it along with some small bites from the menu.
Rating: 4.5/5
Hazelnut Milkshake: The finely chopped and toasted hazelnuts added a crunch to this thick blend of milk, ice-cream and chocolate sauce. It will surely satisfy your sweet tooth.
Rating: 4.5/5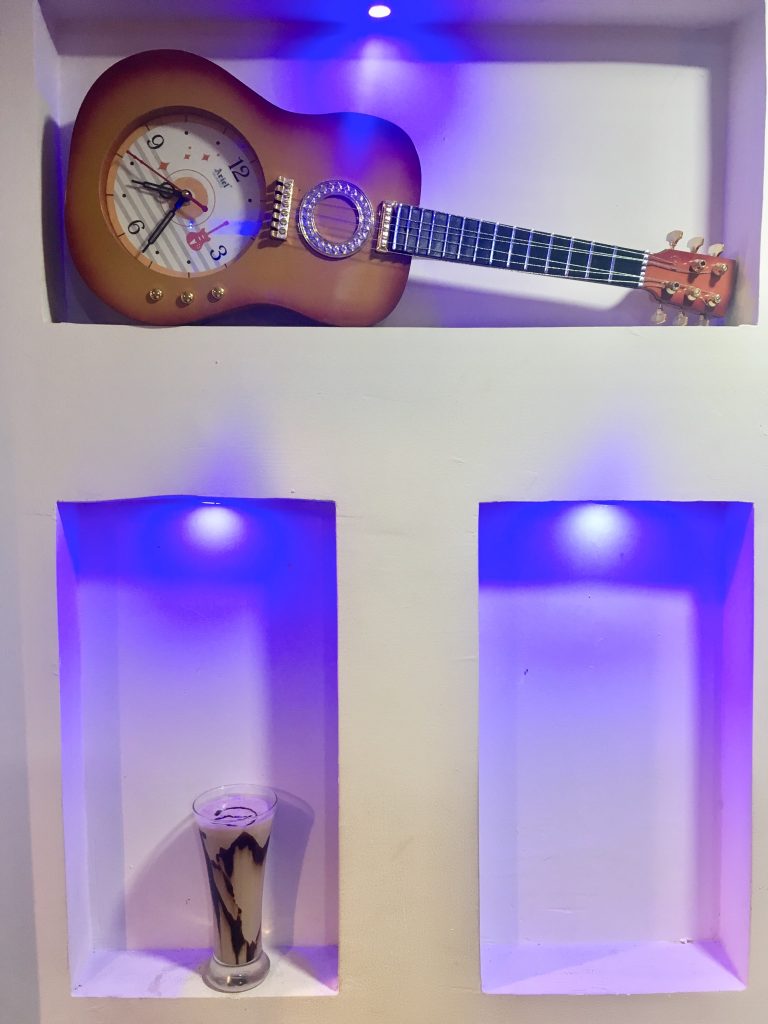 Food:-
Achari Paneer: The dish was extremely well presented with seven Paneer pieces (well marinated in achari marinade and nicely grilled) served along with a small bowl of chutney and a mix of finely chopped pieces of onion, lettuce, bell pepper and red cabbage. The soft morsels of paneer coated with a piquant taste of masala are a delight to eat.  I absolutely relished this healthy and delicious appetizer.
Rating: 5/5
Peri-Peri fries: The toothsome fries were served with a small bowl of ketchup and a right amount of masala was evenly spread on the fries so that it's not too spicy. There was crispiness in every bite that I took, making it a delectable affair.
Rating: 4.5/5
Garlic Bread: The best kinds of bread are soft on the inside and crusty on the outside and same was the case here. The loaves were baked and broiled evenly making the cheese nice and golden brown. The bread tasted even more scrumptious with the ketchup that came along with it.
Rating: 4.5/5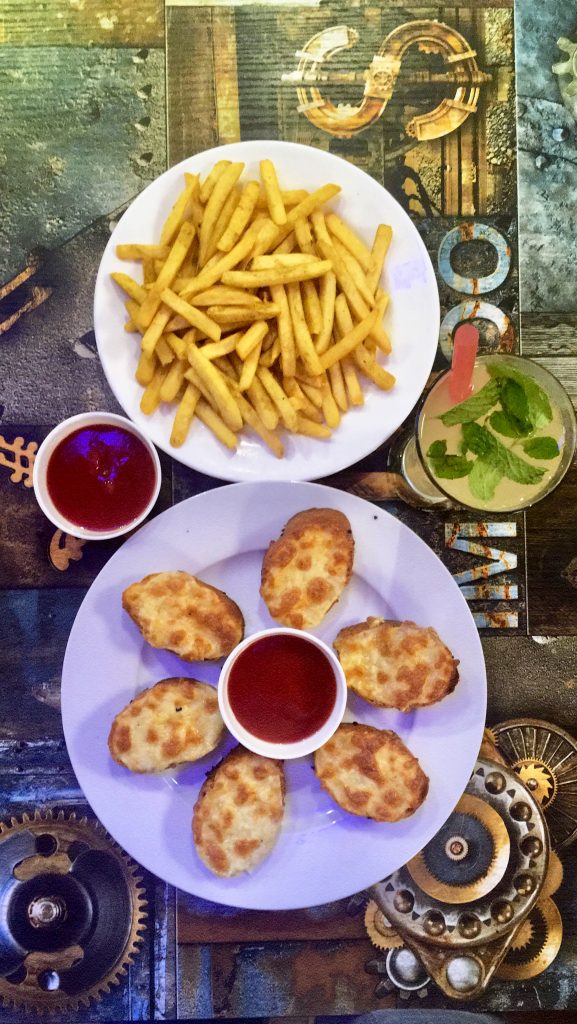 Cheese Chilly toast: The presentation of the dish itself made it more appetizing. The potato wedges served along with toasted bread, with cheese and veggies on top, were both scrummy and crisp in taste. It became more flavoursome once dipped in the tomato ketchup. I'd recommend this one.
Rating: 5/5
Veg Salad: The serving had a mix of lettuce, bell peppers and mayonnaise which was sprinkled with some chili flakes. The taste of the Veg Salad was good but it went a bit on the spicier end for me because of the chili flakes. Overall, it was a good dish.
Rating: 4/5
Penne Pesto Pasta: The pasta was boiled and cooked evenly which made it firm to the bite and delicious; it tasted even more delectable with the pesto sauce.  It was garnished well with basil leaves and was an amazing dish to end my dinner with.
Rating: 5/5
Overall, it was an impressive dining experience with prompt service, splendid ambience along with some scrumptious servings. I'd definitely recommend this café to be visited with friends and family.
Overall rating: 5/5
Smakelijk Eten!