OPPO, the Selfie Expert and Leader, launched the F7 on 26th March in the presence of cricket legends Rohit Sharma, Ravichandran Ashwin and Hardik Pandya. The latest Selfie Expert, powered by Artificial Intelligence (AI), takes smartphone technology to new heights. The F7 utilizes improved AI technology for selfie photography in addition to many more AI-powered operational features. Together with the Super Full Screen and upgraded multi-tasking software, the F7 offers consumers a better user experience. Priced at Rs. 21,990 the OPPO F7 is launched exclusively in India today and will be available from 9th April 2018 on all online and offline stores. OPPO also announced its global expansion plans at the launch event. The brand will be entering European and Northern American markets later this year.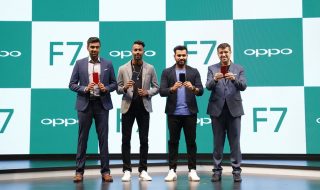 The F7 features a high-resolution 25MP front camera with real-time High Dynamic Range (HDR) sensor. Images taken with the F7 will have a lot more "information" – a higher range of details, luminance and color levels when shot in bright sunlight or the shade, similar to images taken with a good quality digital cameras. Thus the user has a lot more control – regardless of whether photos are taken in bright or low light environments. The HDR images, together with AI Beauty 2.0 with its ability to make improved age and gender beautification effects, will give selfie fans a much-enriched experience.
OPPO first introduced the F5 with AI Beauty Recognition technology, making selfies more real, natural and personalized. The latest F7 will have second-generation AI Beauty 2.0 technology that pushes the envelope on selfie photography even further. New advances include more accurate facial recognition capability, better beautification effects for gender and age; Self-learning capabilities based on user preferences plus added fun features.
The AI Beauty 2.0 technology scans 296 facial recognition points, a 20% improvement from the first-generation technology, allowing for a more precise and accurate facial recognition capability. Now, a person's age, gender, skin color and skin type differences are detected – including for up to four individual subjects – in much greater detail.
We also know everyone has his or her beauty and thanks to AI learning, now your selfies can be exactly just as you like. AI learning identifies your beautification preferences, based on the most common edits made to photo album images, and automatically creates similar adjustments to new photos. So next time you take a selfie and want that perfect skin tone, exotic eye shape or other fun facial feature, F7 knows precisely what to do.
The F7 comes with an improved 2280 x 1080 resolution, 6.2-inch FHD+ Super Full Screen gives a much more colorful, vivid and immersive visual experience. The larger screen has an 88% screen-to-body ratio, yet fits perfectly in the palm of your hand. The F7 is also one of the first smartphones with a customized 19:9 aspect ratio, giving the user a larger area of effect for popular role-playing and strategy games. It achieves this amazing visual feat by incorporating a notch, featuring the front camera, brand-new antenna and light sensor, neatly integrated into the screen.Users have three different color choices to suit their personality – Solar Red and Moonlight Silver, and special Diamond Black edition.
The F7 runs on the latest 64-bit 4GB Octa-core processor, with a much refined operating system. Based on Android 8.1, ColorOS 5.0 has AI built into the software for better systems management.Among the hundreds of brands that have partnered with Google. OPPO Mobiles India as given an edge to the OPPO F7 with its incorporation with Google Assistance