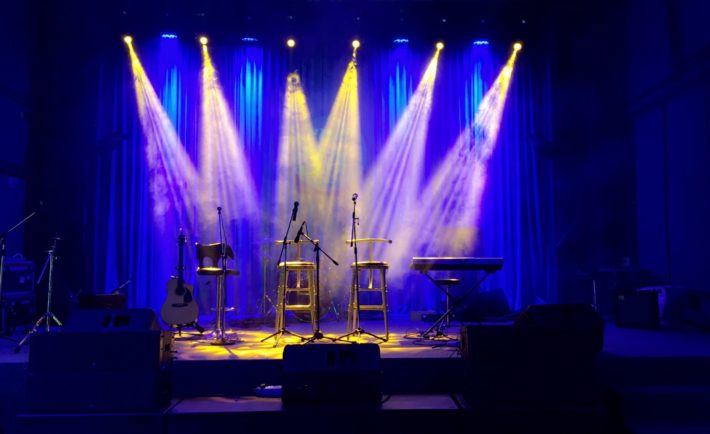 Rule 34 is a hidden gem situated at Charkop, Industrial Estate in Kandivali West. It's nestled in the premise of the much renowned Mumbai Music Institute, which can be easily accessed from Link Road.   The casual dining space has an elaborate and reasonably priced menu which mainly constitutes of some lip-smacking North Indian, Continental,  Mexican, Italian, and Chinese cuisine/dishes. The bar at Rule 34 awaits the license to serve alcohol, as of now, so meanwhile, you can enjoy a variety of delectable shakes and mocktails.
Ambience:-
The place boasts of a top-notch ambience that one can experience in the suburbs. It's easily the best dining experience that I've had this year and a lot of it has to do with its resplendent ambience. It stretches across a wide space where it is divided into three sections: an outdoor open-air seating, a dedicated indoor space with bar and the stage area where the faculty members/students of MMI perform some soulful acoustic songs for the patrons on Fridays, Saturdays, and Sundays. All the above-mentioned spaces have been exceptionally done especially the area with the stage which literally resembles a set of a music video; having wall arts, spotlights, comfortable seatings, and exquisite decor. We visited the place on a weekend when the faculty of MMI was performing. They took the audience's song requests and played some mellifluous songs which just left everyone mesmerized. You need to be here to experience it. Overall, the ambience is simply magnificent.
Rating: 5/5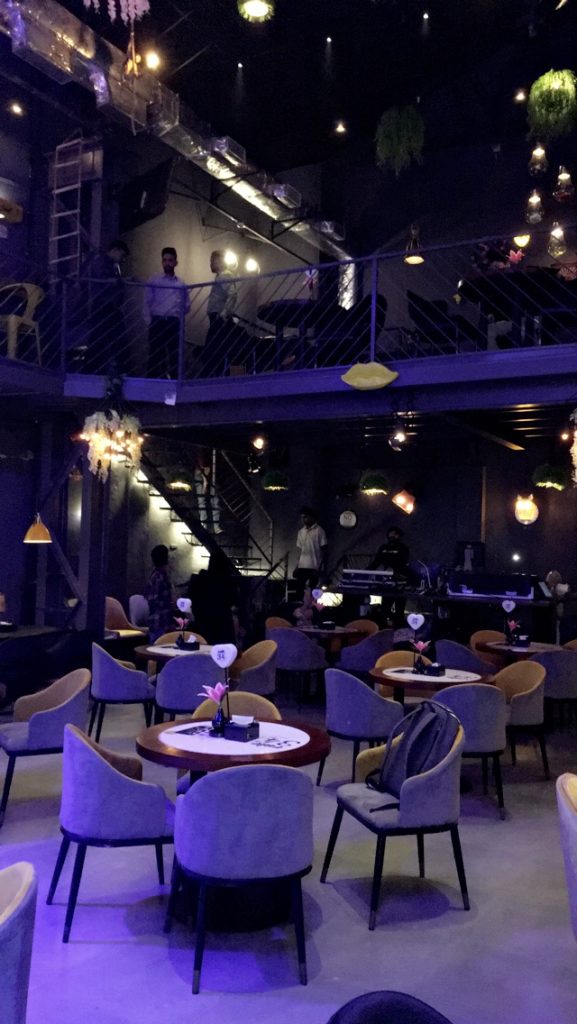 Service and Staff:-
Harris and Max managed our table and they were extremely impeccable in their service. They recommended us various dishes from the menu and the service was prompt. I would especially like to mention the Chef & Consultant Mr. K. M. Saif who was courteous and friendly in his approach & showed us around the entire space. He has curated the menu and opened some top dining places in Mumbai and Pune, namely,  The Little Door, Portico Bistro, Geo Bistro, Urban Flavour, The Fusion Kitchen, The Dockyard cafe, Cone Culture, and many others. All of his above-mentioned ventures are a success and he has been featured several times in The Bombay Times.
Overall, the service is splendid!
Rating: 5/5
Beverages:-
1) Fresh Pineapple Charcoal Colada: The activated charcoal-infused virgin pina colada was absolutely delectable. The presentation of the beverage was innovative, with it being served in fresh pineapple, topped with pineapple parrot. Highly recommended!
Rating: 5/5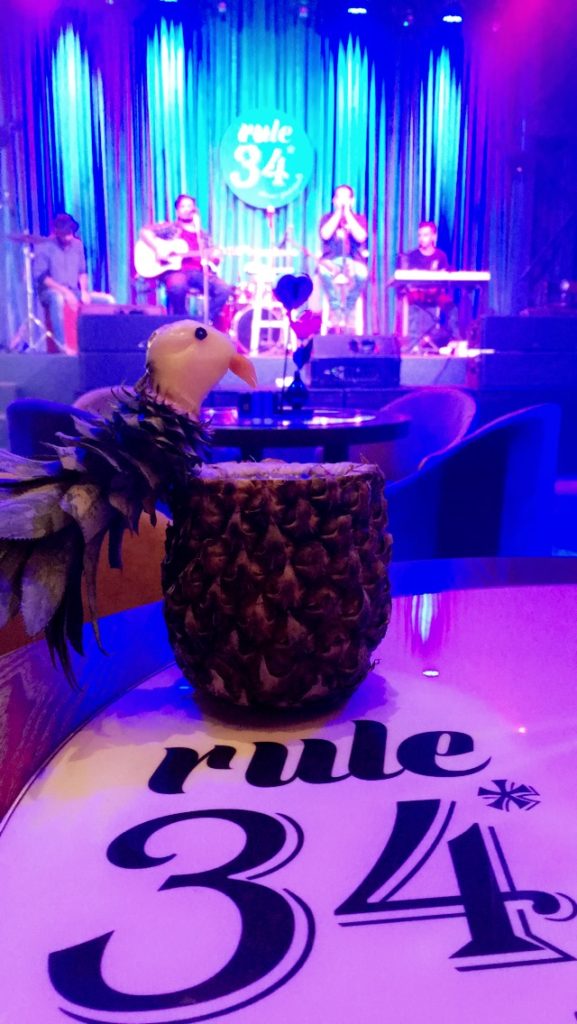 2) Bunty and Bubbly Shake: It's a house special twin shake which is uniquely served in a chocolate and crushed oreo decorated face of 'Bunty' and 'Bubbly' on the glassware.
Bunty shake: The shake is a delicious blend of vanilla ice-cream, milk, whipped cream and topped with crushed oreo. It was thick and the consistency was well maintained.
Bubbly shake: A similar blend as Bunty shake, the only difference being the addition of coconut milk which somehow didn't appeal that much to me. I personally liked the Bunty Shake more.
Rating: 4/5
3) Basil Mojito: An absolutely refreshing mocktail with a balanced mix of muddled fresh basil, lemon, soda, and sprite; topped with crushed ice.
Rating: 4.5/5
4) Wild Juice Bowl: If you prefer having fruity mocktail which is refreshingly sweet with a bit of tang to it then this is the perfect drink for you. The amalgamation of orange juice, pineapple juice, lemon juice, blue curacao, in a glass filled with layers of fresh pineapple, crushed ice, and kiwi slices was vivifying in all aspects. Must try!
Rating: 5/5
Starters:-
1) Charcoal Nachos: Served in a wine glass containing activated charcoal-infused nacho chips, layered with kidney beans, cheese sauce and topped with pico de gallo, which is traditionally made from chopped tomato, onion, and cilantro, with lime juice mixed in. A unique and scrummy nachos is sure to please your taste buds.  Recommended!
Rating: 5/5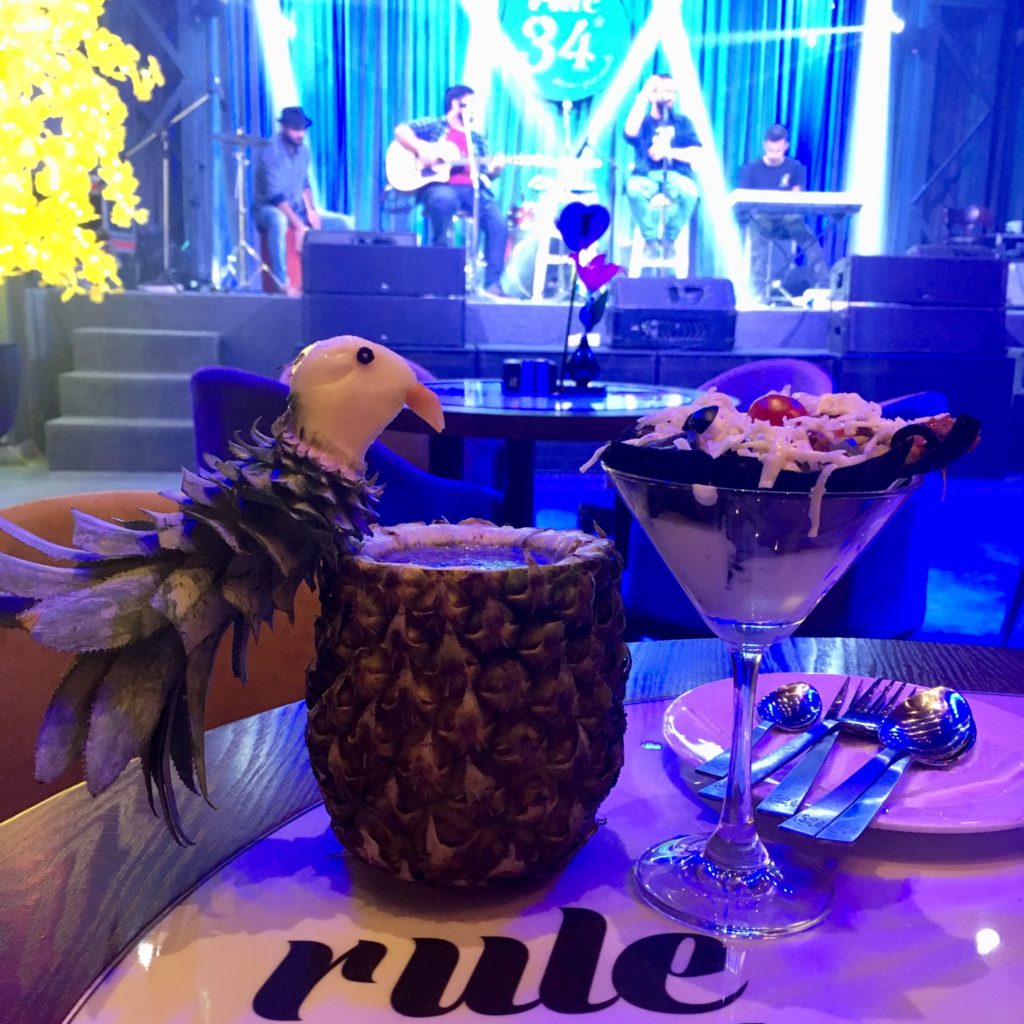 2) Pataya Paneer: The soft pieces of cottage cheese cubes tossed in the mixture of galangal ( has a citrusy flavor), lemongrass, garlic, ginger, bird's eye chili and coconut milk was flavorsome.
Rating: 4.5/5
3) Veg Puff: It's filled with a generous amount of mixed veggies tossed in curry paste and served with the flavourous Szechuan mayo. The veg puffs were appetizing and toothsome. I'd definitely recommend!
Rating: 5/5
4) Charcoal Kalimirch Paneer Tikka: The well-marinated activated charcoal-infused kalimirch paneer tikkas were soft and light on the bite. The combination with green chutney enhanced the flavor of the dish. It's a different dish which you don't get to eat at every restaurant.
Rating: 4.5/5
5) Bajra Nachos: The presentation is similar to that of Charcoal Nachos; served in a wine glass having pearl millet nachos layered with beans, pico de gallo, and finely grated cheese. It tasted even more delectable with the tomato salsa sauce that was served along.  The presentation of both the Nachos are Instagram worthy and are equally yummy on the palate.
Rating: 5/5
Main Course:-
Casado: A Casado is a Costa Rican meal having rice, grilled cottage cheese steak, black beans,  sauteed veggies, salad and nachos served with tomato basil sauce. It's a wholesome meal with enough nutrients that make up for a filling main course option. Delish and scrummy, Casado was the highlight dish for me from the food menu. Highly recommended.
Rating: 5/5
Dessert:-
White Chocolate Brownie: It's a different take on the regular sizzling brownie and a chef's special dessert having white chocolate brownie topped with chocolate ice cream and white chocolate sauce. It's luscious and rich in taste. The brownie was soft and light on the bite and tasted delicious with the chocolate icecream. It's a perfect dish to end the dining experience with.
Rating: 5/5
In conclusion, Rule 34 will surely make your evening an eventful experience with its majestic ambience, unique curation of dishes and impressive service. Do visit with your friends, family or even a date; you'll be in for a treat!
Overall rating: 5/5
Smakelijk Eten!