JLWA is a part of First Fiddle Restaurants which is one of the largest F&B company in India in the casual dining segment and it's situated at the prime location near Linking Road, Bandra West. The place serves some delectable Modern Indian and European cuisine and it's popular in its vicinity for live entertainment events and nightlife.
Ambience:-
We visited the place on Thursday afternoon and upon entering we were mesmerized by the series of contemporary lightings and the use of vibrant shades of green, turquoise, gold and brown in the decor; giving the place a lively, chic and resplendent ambience. It's extremely spacious with comfortable indoor sofa seating and enough free space on the aisle. There's a huge open bar tucked on the right side which is impressively organized. The huge window panes allow a lot of natural light and it presents a great view of its vicinity, hence, the patrons prefer to be seated near it. Overall, the ambience is splendid!
Rating: 5/5
Coming to food and beverages:-
Cocktails:-
1) JLWA Wild Berry Sangria: It's a house special drink which was absolutely delectable. The mixture of red wine, brandy, apple juice, orange liqueur and some fresh mixed berries was perfectly balanced making it probably the best cocktail listed on the bar menu. It's one classy drink which I'd highly recommend.
Rating: 5/5
2) Love Affair: It's the amalgamation of tropical fruit-infused five spirits along with herb liqueur and topped with caramel beer. The strong taste of caramel beer overpowered a bit to my liking but nonetheless, the overall blend was pretty good.
Rating: 4/5
3) Hello Darling: It's a rum-based drink having a hint of fresh grapes, mint, elderflower, lime and a splash of champagne.  This one's strictly for rum lovers, who prefer having a strong cocktail with a hint of citrusy tangy after taste.
Rating: 3.5/5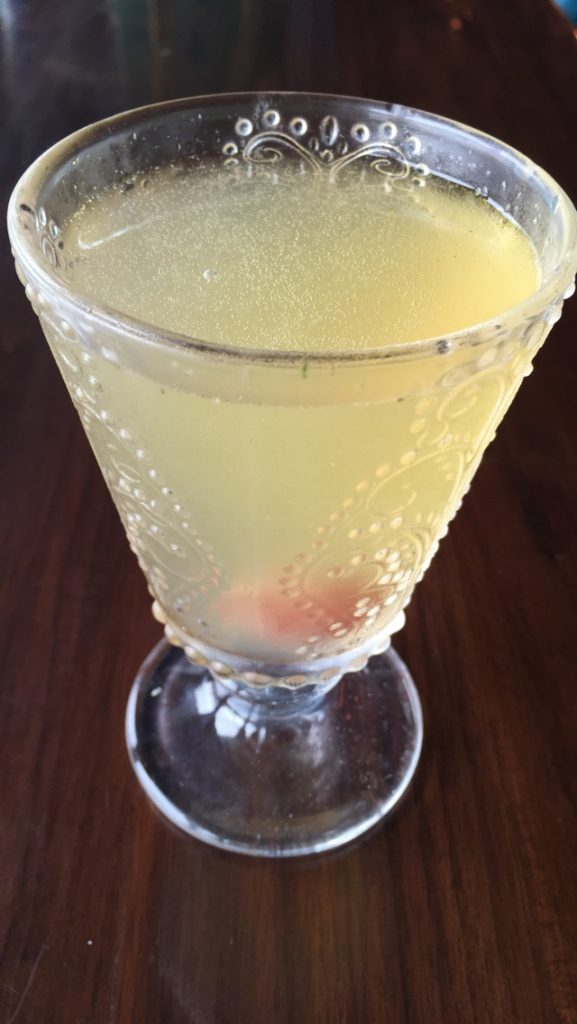 Mocktail:-
Orange Punch: I had this one at Plum, Lower Parel and loved it thoroughly so ordered it here again. It's a vivifying drink having vanilla syrup, orange and kaffir lime seated at the bottom of the jar and sweet and sour mix topped with orange soda. It's fruity, zesty in taste and the sweetness is well maintained. Definitely my preferred mocktail!
Rating: 5/5
Starters:-
1) Baked Mushroom Tarts: The baked kalimirch mushroom stuffed in the crispy tarts shells, topped with chilly onion jam was heavenly in all aspects. It's a scrumptious starter dish which will definitely please your palate.
Rating: 5/5
2) Hadippa Paneer Tikka: A wholesome starter dish having six chunks of soft paneer cubes marinated in romesco sauce, served with two rick Thai roti disk and chatni, was absolutely scrumptious. A must try!
Rating: 5/5
Main Course:-
1) Grilled Vegetable Rissotto: The tomato risotto having bits of grilled seasonal veggies and parmesan was toothsome with adequate portion size. The crunch of the garlic bread served along went well with the risotto. Recommended!
Rating: 4.5/5
2) Mushroom Stroganoff: The rice pilaf with parsley with creamy sauce, fresh sweet pepper and baked mushroom was flavoursome and delicous in taste.  The rice pilaf was well cooked with just the right amount of pepper and creamy sauce. The distinct flavour of the dish will definitely please your taste buds.
Rating: 5/5
Desserts:-
1) Lemon Fresh Toast: Three crisp french toast dipped in saffron milk pudding with a hint of lychee, was extremely luscious and rich in taste! A bite of the dipped toast will literally melt in your mouth, it's that good! Don't miss this one as it's sure to tickle your sweet tooth.
Rating: 5/5
2) Creme Brulee: Trinity cream, consisting of a rich custard base topped with a layer of brown sugar crystals; served with seasonal fruits and pink guava compote. The creme brulee had a balanced sweetness to it and was delicious but the compote could have been avoided. The seasonal fruits went well with the taste of trinity cream, giving a sweet ending to the pleasant dining experience.
Rating: 4/5
In conclusion, JLWA, with its scrumptious servings, splendid ambiece and prompt service makes for a perfect place to have a nice brunch along with friends and family.
Overall rating: 5/5
Smakelijk Eten.