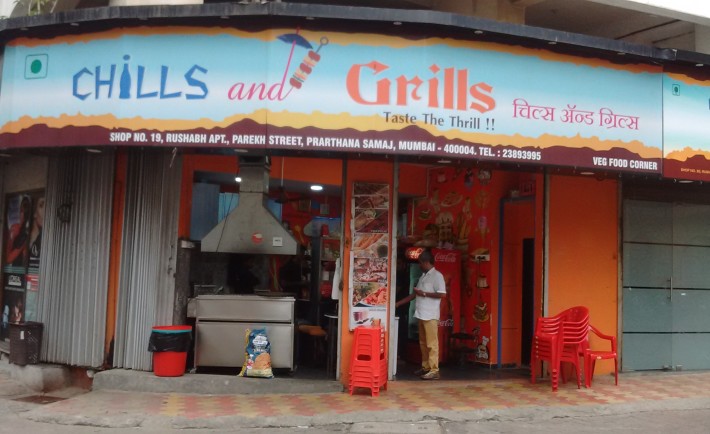 Girgaum, the heart of Mumbai is known for the food..and Prarthana samaj area is filled with eateries.
One such quaint awesome place I visited a few days back. Chills and Grills is about a year old restaurant and have recently made arrangements for seating area, the small and vibrant coloured seating area can accommodate at about 12-15 people.
The place is almost equidistant from Grant Road and Charni Road Station at about 1 kms away from the respective stations, located near the Hurkisondas Hospital at Prarthana Samaj.
The homely feel comes right from the entrance. The vibrant colours of the seating area make you refreshed and one look at menu (You have to forget calories) as this is for foodies!!
Having snacks at evening and in the rainy season makes the mood totally awesome 🙂 🙂
The place is having very vibrant colors and it's in such a place with a very pocket-friendly for snacks.
After settling down, we first called for Chic Choc Chocolate Milkshake: The milkshake is garnished with grated dark chocolate, it had a perfect blend of milk and chocolate though the shake could have been a little thicker. Try if you're a chocolate fan.

After enjoying our shakes, we called for Cheese Masala Khichiya Papad: The base is of Khichiya Papad, the typical Gujarati snack, which is covered with a layer of green chutney and Schezwan sauce topped with onion, tomato, and Sev, garnished with grated cheese. Our taste buds could not control but get delighted at the amazing hot khichiya papad in the cold rainy weather outside!
Next, we wanted to eat something more filling. So we tried their special Paneer Schezwan Rolls!
I totally loved the Paneer Schezwan roll here. It's a wrapped roll of smooth paneer inside and a mixture of chili sauce, onion, and veggies. It's best to eat as hot it comes. The veggies were nicely grated and had some nice flavour and aroma to it.
I was parched even though it was raining outside so I ordered for Chills and Grills Chocolate Shake (And boy this was good) served in 150 ml glass with brownie pieces as toppings and incorporated in the shake! It was just perfect for that weather!
The special shake was very tasty and delightful to have! We loved this shake as the brownies were very soft to eat and the milkshake was also very chocolaty.
After the chills now it was tine for something grilled! So we ordered a sandwich (considering how full I was with the wrap and shake). No to mention they have a fab array of pav bhaji, wraps, pasta, breads and chat (reserved for next time!! :)). The sandwich was Aloo Masala cheese grilled fully loaded sandwich after suggestion of the kind owner.
As expected the sandwich was yummy grilled with goodness in it.(Yes loads of cheese too!). Also try their special Double Decker grilled sandwich for something unique and tasty!
We also tried French Fries, tt was served piping hot, finely chopped potatoes were fried well, served with a small portion of tomato sauce, highly recommended.
Lip- smacking french fries at Chills and Grills!
Though we were quite full with all these dishes, still our taste buds were craving for more, getting tempted at the foodgasm- worthy dishes at this amazing place.
Also, Chills and Grills has a special screening facility to host live streaming events- Which makes it a great hangout place to catch up on some live action with your friends and colleagues!
Next, we called for the Chills and grills Special Maggie considering the weather was quite cold outside.
The Maggie was loaded with the generous amount of veggies like Olives, Baby corn, Small cubes of Paneer and Capsicum, a healthier take on Maggie. Eat while it's hot.
By this time, our stomach was hurting but we were already nearing a perfect quaint evening with amazing food experience. So we thought to put an end to this beautiful journey by ordering something sweet and healthy- Mango Milkshake being mango season!
This drink had freshly cut mango pieces served in a mango milkshake. Although the shake could have done with a little more thickness, but fresh mango pieces really made up for it.
Chills and Grills had a good variety in fruit juices too. Watermelon, Pineapple, Mosambi – these are some other good juices options in this restaurant apart from milkshakes.
With this, we spent a good evening at this restaurant. Overall the place is good value for money; to have the quick snacks whether there or home delivered. Try this family run small outlet for the love of quick bites, all vegetarian.
Another best part about the place is that the cost is quite pocket friendly- Only Rs. 400 on an average for 2 people that too in an area like South Mumbai is quite amazing! Also they have deals and offers at most times of the year. Currently, they have 2 offers going on-  A combo offer for Rs. 150 as well as flat 10% discount on all home-delivery orders above Rs. 150 when you order online from Zomato.
Check out the zomato link for Chills and Grills here: https://www.zomato.com/mumbai/chills-and-grills-girgaum
Also check out their timings, offers and ratings below: