Hi,
on the 21st of December I had the privilege of visiting the cool new, All Elements cafe in Mumbai. It is not just a cafe but also an affordable luxury store. It was a superb experience. I loved the ambience of the place. It is situated in a quiet location of the elite lanes of Mumbai. The cafe looks welcoming for the tired "birds"  as they come back from a tiresome day of work.
Although, located in one of Mumbai's most plush area, it's
a pocket friendly cafe that serves a main course dish like butter chicken for less than Rs.230. I got it with Kulchas, they were baked in their kitchen. The chicken was tender and melted in the mouth. The taste was spicy and a bit sweet.
I loved the combination of butter chicken and Kulchas. I ordered more of the latter. It can fill an empty stomach and give relief to a
tired mind. It is a typical Mumbai flavored cafe with a very tasty Mumbai style  dish called Mumbai Spice . It has a croissant bread, chicken filling with roasted peanuts. Unlike, the regular croissant bread in the market this one was baked to perfection. After a hearty meal, it was time to taste hot and cold beverages. I wanted to drink delicous and warm drink, I ordered hot chocolate. It cost me less than  Rs.180 and then Cold Coffee to tease  winter . The coffee, too, cost me Rs.180 and came in a tall cocktail glass.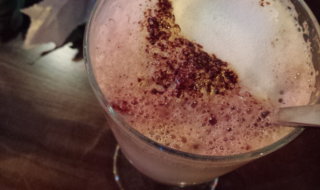 The hot chocolate was served in a stylish  coffee glass. The taste of both the drinks was equally stylish  accompanied by being heart warming.
Coming to the stylish part, the luxe store is run by two fine and talented ladies, Tasneem and Shehnaaz. They are sisters and have an affordable luxury brand called Tasnaaz. Everything from candles, shoes to clothes even Kashmiri shawls  can be found in the All Elements Cafe's decor store. The name represents  the mixture of luxury lifestyle  and food. You get everything at one place. The manager, Zoya and service members were gracious hosts.  I would recommend this quiet and warm cafe in Khar, giving it a 5/5 rating.