Spin City Kitchen & Bar is one place where you can choose from a variety of cuisines, from their elaborate and reasonably priced menu; namely: Thai, Asian, Chinese, Continental, North Indian, Italian, along with some delectable cocktails and lip-smacking desserts. It's situated at the prime location of IC colony which is easily accessible through Link road. The casual dining place has tied up with Zomato so the Gold Members can avail the benefit of 2+2 on drinks, as per your membership. Spin City has also introduced weekly offers and events; the details are in the picture given below.
Ambience:-
The tables and sofas are well organised, with enough space on the aisle,  in such a way that it surrounds the well lit-up circular open bar which is at the centre of this spacious dining space. The seating is comfortable and the arrangement is such that it can accommodate a table for two, four or even a large group of people. The contemporary lights, frames of prominent artists on the wall, the sea-green textured theme, the eye-catching open bar and an amazing setlist of hit music, sure adds a touch of class to the overall ambience.
Rating: 4/5
Service:-
The table was managed by Mr Dilip who recommended us various dishes according to our tastes and the service by Mr Sunil was prompt. The Bar section was managed by Mr Shivkumar who made some delicious cocktails for us. Overall, the service was quick and the staff here is friendly & courteous.
Rating: 5/5
Cocktails:
1.Cosmopolitan:  The proportion of vodka (which works to dilute other flavours in a cosmo), triple sec, cranberry juice, and lime juice was well maintained giving it a signature sweet and sharp-tasting flavour element.
Rating: 4/5
2.Planters Punch (highly recommended): This is probably the best cocktail one can choose from the menu. It has a base of Dark Rum, blended with orange juice, pineapple juice and lime juice, which helps to maintain the strong flavour of dark rum while giving a bit of citric-sweet after taste. The cocktail is refreshing and mild. Definitely, my top pick when it comes to cocktails.
Rating: 5/5
Starters:-
1. Tulsiani Paneer Tikka: The paneer was soft, well grilled and marinated in fresh green basils, chillies, coriander and herbs. It was served with shreds of cabbage, carrot and lettuce. It's a must-try flavoursome starter dish.
Rating: 5/5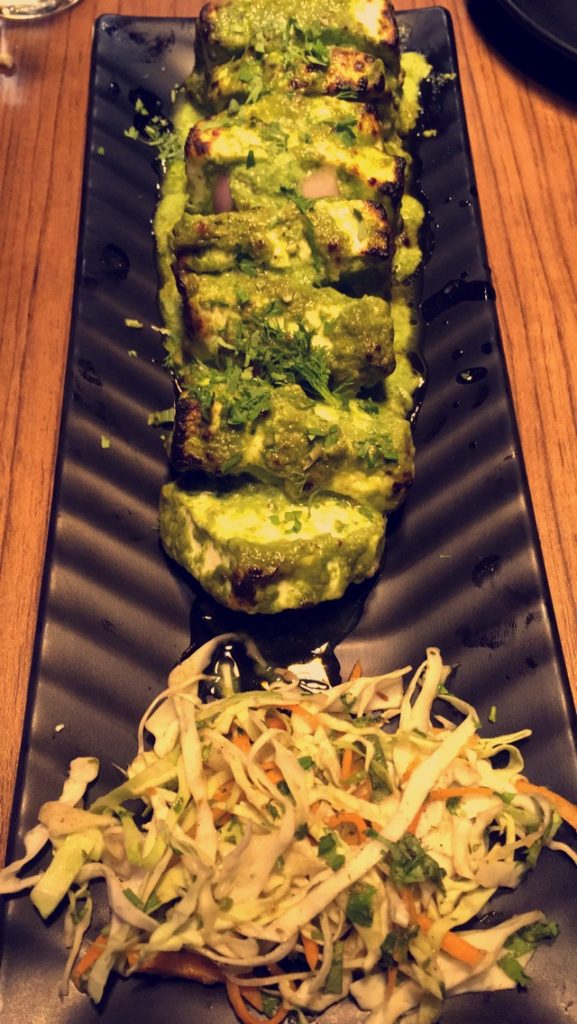 2. Veg Crispy: The most popular starter dish which has a mix of vegetables like, mushroom, baby corn, broccoli and cauliflower which is deep-fried with plain flour and cornflour batter. The veggies were crisp with the right amount of salt, making it scrummy in taste.
Rating: 4/5
3.  Spin City Style Baby Potato: It's a palatable house special wherein pan-fried baby potatoes are tossed with garlic, onion, spices and is garnished with coriander.
Rating: 4/5
Main Course:-
1.Veg Paprika: A mix of assorted veggies tossed in paprika sauce, medium spicy in taste, and it was served along with an adequate quantity of pepper rice and mashed potatoes. The veggies tasted scrumptious with the rice, which was well cooked.
Rating: 5/5
2.Veg Spaghetti Pasta: Cooked spaghetti, mixed with nutritious veggies, chilli powder and served along with two pieces of garlic bread. The dish was toothsome and the spice was balanced. If you're looking for a healthy main course option in the Italian cuisine then this is a must-try!
Rating: 5/5
3.Veg Chilli Garlic Fried Rice with Brocolli Baby Corn Mushrooms: An extension of the popular fried rice; it comes with a hint of chilli garlic sauce. The veggies were well sauteed with red chilli and garlic; the rice was light on the bite. It was served with the gravy which consisted of broccoli, baby corn and mushroom dipped in wok tossed green pepper chilli garlic coriander sauce. The gravy might not suit everyone's taste but the rice was perfect!
Rating: 4/5
Dessert:-
Sizzling Brownie: The best and the most popular dessert option; comes with a chocolate brownie served on a sizzling iron plate, dipped in chocolate sauce and topped with the luscious vanilla ice-cream.  A great way to end the dining experience.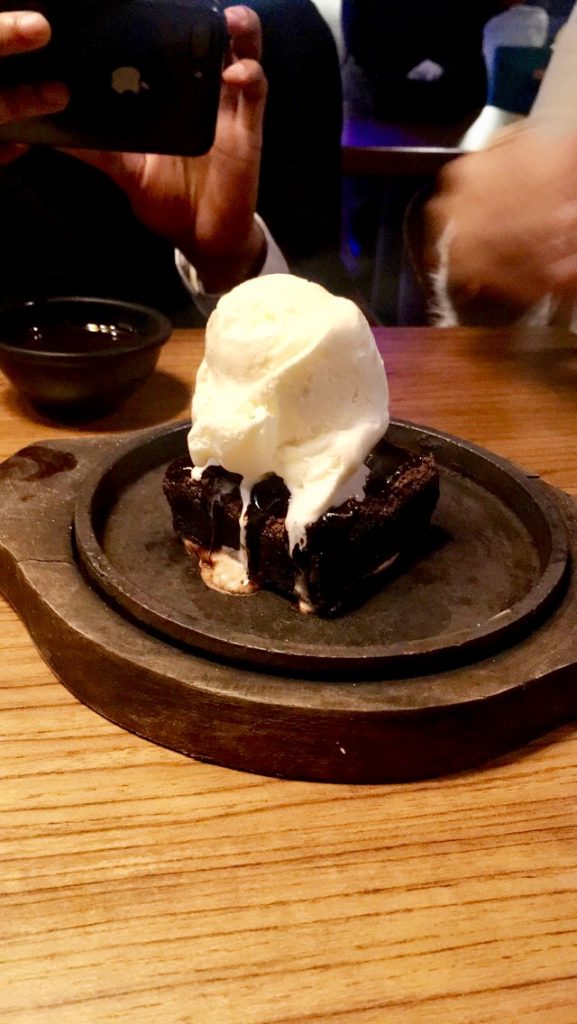 In conclusion; the splendid ambience, prompt service and delectable dishes & cocktails are sure to make your dining experience a memorable one with your friends and family. If you're in IC colony, do check it out.
Overall rating: 5/5
Smakelijk Eten!