Mia Cucina is a casual dining place in Hill Road, Bandra West. This is a newly opened outlet with the other being in Powai. It serves scrumptious Italian cuisine along with some delectable beverages. If you are a Zomato Gold member then you can avail the benefit of 1+1 on food at this restaurant. The place also offers Happy Hours from 12.30 PM to 6 PM & 10.30 PM to 12 AM (Weekdays).
Ambience:-
The restro + bar has an inviting vibe. As we entered, we were surrounded by potted Chinese evergreen plants laden with fairy lights at the entrance. The place has ample space on the aisle and is organised well for comfortable seating. It is well lit especially the bar area which caught our attention. The walls have a variety of retro frames of different wines near the bar, vintage print ads of soap near the restroom and frames of classic aircraft of the 30s-40s in the dining section. The music playlist consists of the latest tracks that'll get you grooving. It's IPL season so one can even enjoy live IPL matches on an LED screen. Overall, the ambience is impressive.
Rating: 5/5
Service:-
The manager and the staff here are courteous and friendly. The staff is well versed with the menu and also recommended various dishes. The service was prompt and the servings were scrummy. Kudos to the Chef Mr Rahul who prepared some excellent dishes. Overall, the service was splendid.
Rating: 5/5
Beverages:-
Two oceans wine: This red wine is bitter, strong and leaves an after taste. One glass of this classy strong wine will leave you sufficiently tipsy. Wine lovers, your go-to drink!
LIIT: If you are as confused as I am when it comes to ordering cocktails, or you want a change from the sweet tasting cosmopolitan, just pick the large glass of LIIT here and you won't be disappointed. It is a great blend of Gin, White rum, Silver tequila, Vodka, Triple sec, simple syrup and fresh lemon juice. If you don't drink often, be wary, it is STRONG and it will hit you in a way you didn't see coming. The Long Island Iced Tea is one of our favourite guilty pleasures.
Appetisers:-
Polenta con Pomodori: It was crispy on the outside with a splash of herbs and cheese on the inside and surprise filling of polenta (Italian cornmeal). The perfect accompaniment with our LIIT. Who knew cheese can be fun and so light on the stomach?
Torte di Pollo: This a scrumptious appetiser to begin with. Albeit, a little filling, it was flavoursome with perfectly minced meat i.e Italian chicken cake. It was served with the side of mayonnaise and chilli and was cooked with a minimum amount of oil; so even though the serving was sufficient for two people, it was light. I'd recommend you to have 'Two oceans wine' along with it as it complimented well with this delectable dish.
Main Course:-
Pizza Verdura: This thin crust pizza came with a generous topping of roasted exotic vegetables and the parmesan and mozzarella cheese made it even more toothsome. The serving is filling enough for two people and it is highly recommended for people who prefer non-spicy pizza.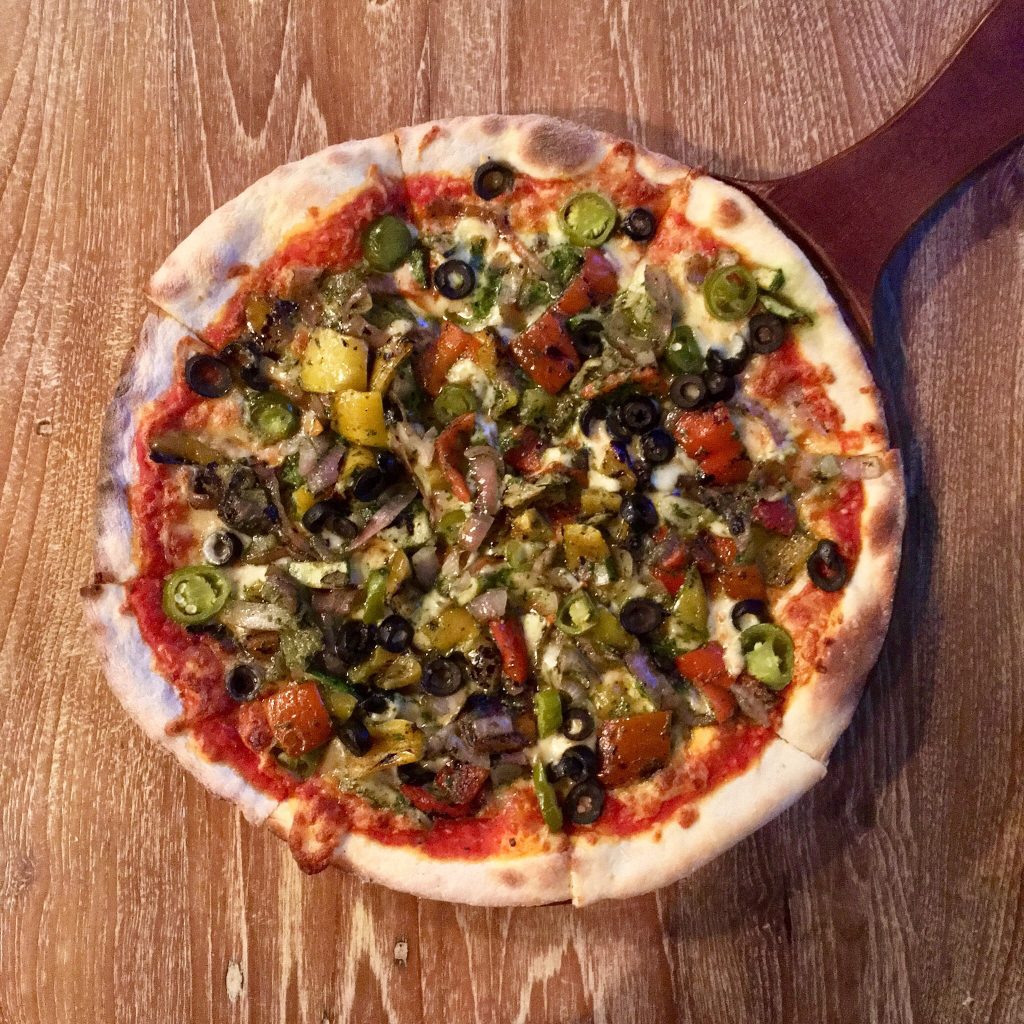 Dessert:-
Decadent chocolate cake: Gooey and chocolaty; the perfect dessert for chocolate lovers and one of their hot selling cake. The texture is light and it takes its own sweet time while melting into your mouth and leaving behind a swirl of bittersweet chocolaty after taste.
White Cheesecake: This is what cheesecake heaven feels like.. Made with a generous amount of cheese, the cake balanced the flavour of coconut quiet well. The crust was thin and buttery and as I bit into this cake, I savoured the light texture and cheese. If you have a sweet tooth and do not enjoy chocolate, consider this a big fat recommendation to try out their cheesecake. In fact, it was the best part of the dining experience.
Overall, the splendid ambience, delicious food and prompt service made the dining experience to be worthwhile.
Overall rating: 5/5
Smakelijk Eten!