Khow Chow is a casual dining restaurant located at the intersecting corner of Waterfield Road and Linking Road in Bandra West. It serves some scrumptious and authentic Pan-Asian cuisine in its vicinity. The restaurant is partnered with Zomato so Zomato Gold members can avail the benefit of 1+1 on food at this place.
Ambience:-
It's a small cosy outlet with a resplendent and magnificent decor. The interior is well lit, having comfortable seating and enough space on the aisle. The artistic and aesthetic walls in the inner section give a perfect ambience of an Asian restaurant. The patrons can even enjoy live IPL screening on an LED screen in the inner section while having some delectable dishes the restaurant has to offer. Overall, the warm and inviting vibe of the place had my heart.
Rating: 5/5
Service:-
The staff members were courteous and friendly in their approach. Our table was well managed by the staff members namely Mr Shahid, Mr Akshay and Mr Deepak. All of them were thoroughly well versed with the menu and the ingredients of the dishes. They recommended a variety of dishes as per our preference and were prompt in their service. The cutlery was replaced and the table was cleaned after every serving.  The staff head Mr Ramesh was polite towards us as well as other patrons as well and asked us for the feedback of the dishes we were served. He also made us try some popular dishes by an excellent Chef Mr Num who personally came to greet us. Overall, the hospitality offered by the place is impressive.
Rating: 5/5
These are following categorised as we ordered:-
1) Thai Cooler
Ingredients: Passion fruit, litchi, lemongrass.
A tall glass of refreshment served to perfection. I could have glasses of this and yet have some more. Yes, it was THAT perfect. If you are a fan of refreshing, sweet and piquant drinks, this is highly recommended. In this scorching heat, this is the perfect summer cooler.
2) Lemon Chilli Coriander Soup
Ingredients: Chopped Vegetable soup with fresh coriander and lemon extract.
A perfect blend of coriander and lemon extract that is light of stomach and will definitely satisfy your taste buds. It's a perfect dish to start your meal.
3) Yam Mamuang
Ingredients: Thai style spicy green mango salad with fried onion.
This is a staple dish of Thailand. The experimentation with the serving of green mango salad can be visible in every street of Thailand. Yes, it is that popular and I was excited to taste it. The  Yam Mamuang was toothsome and my taste buds were bursting with the tanginess of raw green mango, sliced to perfection, coupled with the aromatic caramelized onion. The serving was well presented and it was a great light appetizer.

4) Taronest
Ingredients: Exotic vegetables in Thai chilli sauce.
Let me start with the plating. It was served in a finely fried and artistically woven brisket of noodles.. The exotic vegetables were deep fried to perfection and stirred in a flavoursome Thai chilli sauce. In fact, despite the serving being sufficient for two to three people, it was light on the stomach. Highly recommended.
5) Chinese style cottage cheese
Ingredients: Chunks of cottage cheese marinated in Chinese sauces and cooked in a clay oven.
Soft, fresh and smokey; as we dived into this well marinated and flavoursome appetizer. A vegetarian favourite, our taste buds were enticed with the smokey flavour that it derived from the clay pot. It's a must try!
6) Japanese garlic fried rice
 The dish was presented well and garnished with sesame. The butter garlic flavoured sticky jasmine rice was scrumptious. It had asparagus, bell pepper and baby corn that enhanced the flavour of the rice. The quantity of the serving was quite filling and delectable.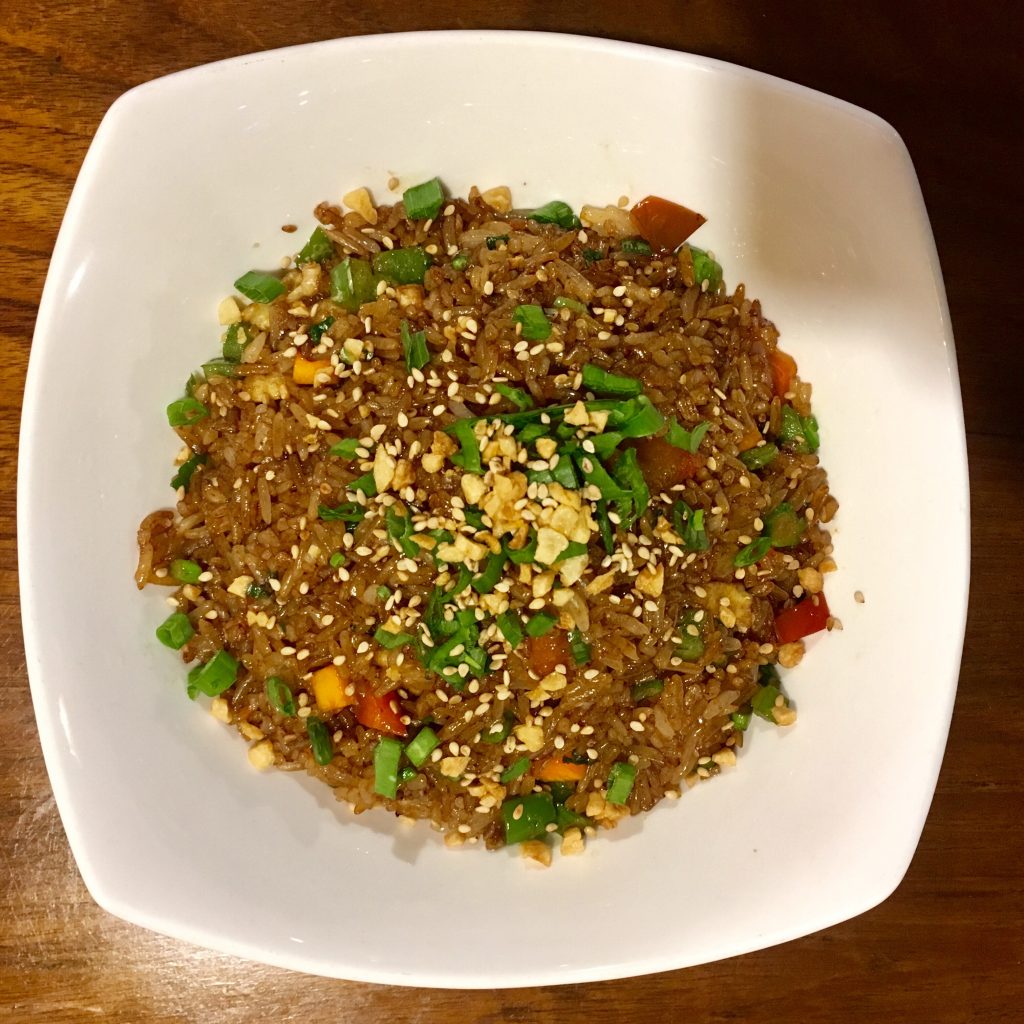 7) The luscious fried ice cream: The crusty outer layer was bathed in caramel sauce while the inside was the classic vanilla ice cream. Plated with swirls of chocolate sauce, it was the perfect way to end the dining experience.
Food rating: 5/5
Overall, the dining experience was a memorable one with scrummy servings, splendid service and aesthetic ambience with light music.
Overall rating: 5/5
Smakelijk Eten!