Time travel is a widely-recognized concept in philosophy and fiction using a hypothetical device known as a time machine. Science is yet to explore the possibility of it but what if I tell you that time travel is actually possible and one can go back time, if not physically but mentally.
Iscicle, in this case, is what I'd call a resplendent, cozy and vibrant time machine shimmering in the corner of the prime hub of cafes/restaurants in Oshiwara. A step in its premise will transport you back to the good ol' 90s when the delectable popsicles were on every kid's wishlist. Not much has changed since then; popsicles continue to remain a forever favorite just that now it has upgraded and comes in different varieties like Natural Fruit popsicles, Gluten-Free, Vegan and Keto based popsicles, which this outlet has to offer to its patrons.
Ambience:-
Iscicle is easy to spot at the corner of the street with its glowing and well-lit sign. The interior is vibrant with walls covered in blue and yellow, painted to depict the dripping cream of a popsicle, which makes for a great background for clicking pictures. Apart from the popsicles, one even enjoy listening to the latest music tracks while slurping on some mouth-watering popsicles. The space is well organized with a hygienic and clean kitchen area. Overall, the outlet is a paradise for kids and adults alike.
Service and staff:-
We were warmly greeted by the co-founders of Iscicle, Anshu and Razik, who were friendly and courteous. They explained to us about every iscicle along with its ingredients in great detail. They have curated the elaborate menu with a variety of additions like milk-based, fruit-based, summer coolers and keto iscicles which gives the patrons a varied range to choose from. Overall, the service is great and the outlet is managed efficiently.
Below is a list of Iscicles we tried:-
1) Iscicle 377: This delectable iscicle has a top layer of kiwi which adds a bit of tang to the overall taste and is well complemented by the sweet middle and bottom layer of strawberry and mango. The mango especially gave a taste similar to that of 'Aamras.' The vegan and gluten-free iscicle has similar color shade of the rainbow flag of the LGBTQ movement hence it has the 377 in its name. Highly Recommended!
Priced at Rs. 150
Rating: 5/5
2) Iscicle Fruit Fusion: This is like the amalgamation of all the fruits, having the goodness of pomegranate, apple, kiwi, orange, litchee, dragon fruit, sweet lemon, and grapes. It has pieces of pomegranate, apple, and kiwi which is scrumptious on the palate and adds a fruity flavor to the iscicle.
Priced at Rs. 150
Rating: 5/5
3) Iscicle Mango and Passion Fruit: I loved this one for its tanginess and the vivifying combination of Mango and Passion Fruit. It literally felt like I tasted a fruit sorbet.
Priced at Rs. 170
Rating: 4.8/5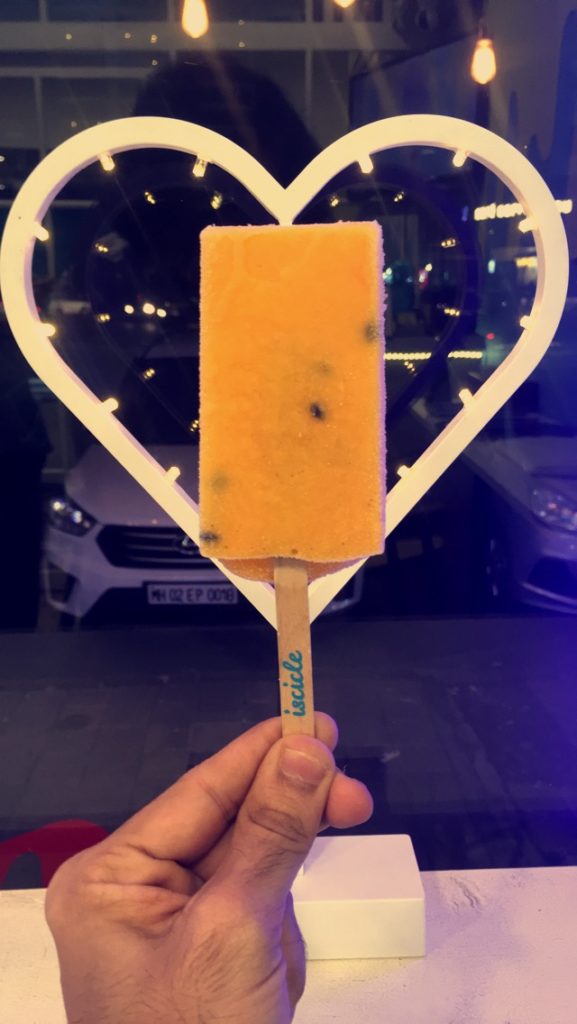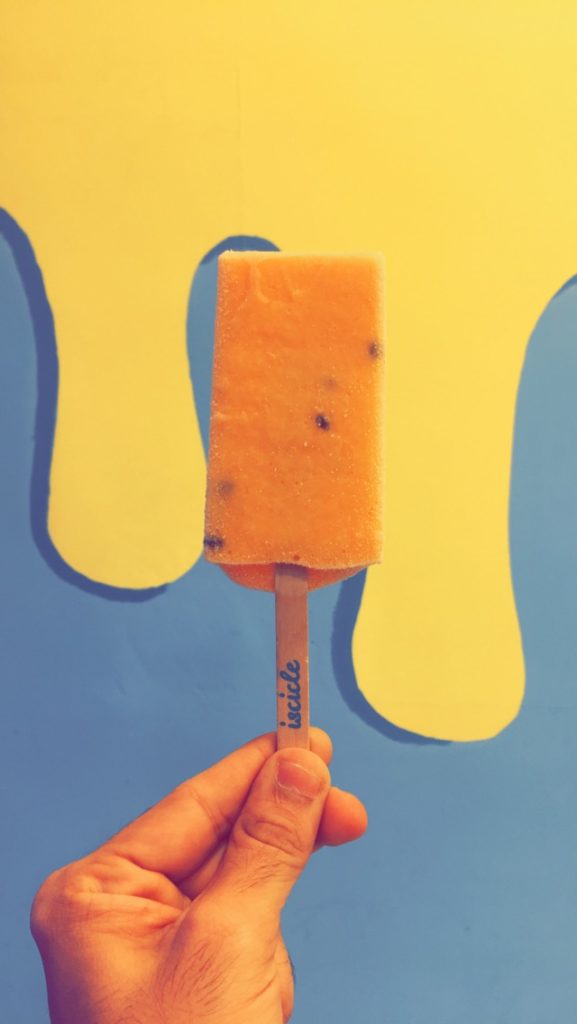 4) Iscicle Strawberry Cream: It's a milk-based iscicle having a blend of strawberry and cream with a topping of a generous amount of whipped cream and sprinkles. This Vegan iscicle has a distinct luscious and rich taste to it. The sweetness was well maintained and the topping of sprinkles made it more flavorsome.
Priced at Rs. 170
Rating: 4.8/5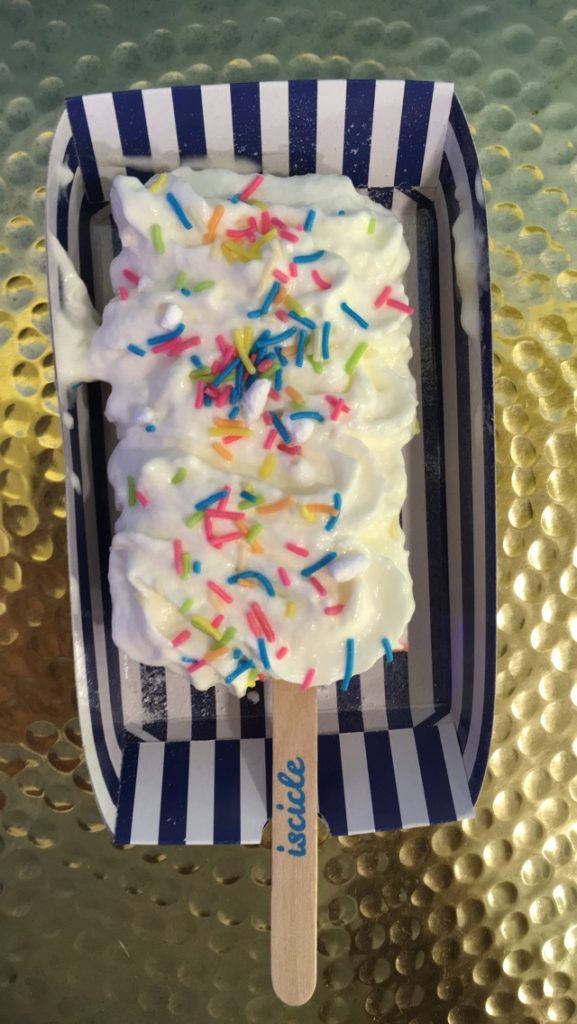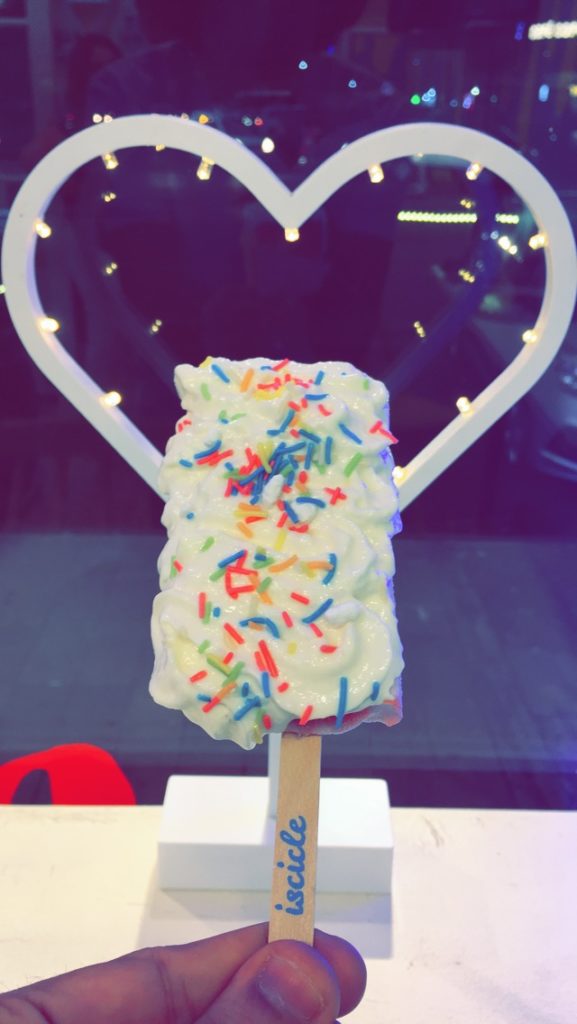 5) Iscicle Forest Berries: I saved the best one for the last as I wanted the taste of the berries to linger long after I've left the outlet. This Iscicle floored me its favourous mix of strawberries, raspberries, and blueberries. You can literally taste the seed of the berries, it's just heavenly.
Priced at Rs. 120
Rating: 5/5
In conclusion, if you fancy a time travel back to your childhood days then this is the best outlet to visit with your friends and family and taste some lip-smacking Iscicles.
Overall rating: 5/5
Smakelijk Eten!