Flax is one of a kind healthy food restaurant in the vicinity of Todi Mills, Lower Parel that serves delectable bowls, salads, wraps and smoothies along with a variety of cold-pressed juices and yoghurts. It's a quaint outlet which also has its presence in Powai, Breach Candy and Pune as well. The menu here is curated by a nutritionist and crafted by the owner, Bunty Arora. Flax strikes a balance between healthy and tasty and that's the USP of the restaurant especially the gourmet-style salads which are a must-have here! The service is quick, we didn't have to wait much for our orders, and the staff here is courteous, well informed and polite in their approach.
Coming to the food, we ordered for all vegetarian dishes here and those are as follows:-
Salads:-
Energy Booster Salad: According to Ayurveda, lunch should be the heaviest meal of the day so we started with salad option which was high on carbs and had a hint of sweetness to it. The Energy Booster Salad has the goodness of kale, quinoa and arugula that are rich in fibre; finely sliced pieces of carrots, seed potatoes, pumpkin, onion, mixed well with the sweet-tasting raisins, dates and sweet potatoes that complimented the overall taste of the salad. The salad was topped with slices of parmesan cheese, sunflower seeds and had a dressing of mustard vinaigrette which was absolutely flavourous.
Overall, the salad was scrummy and healthy.
Rating: 4.7/5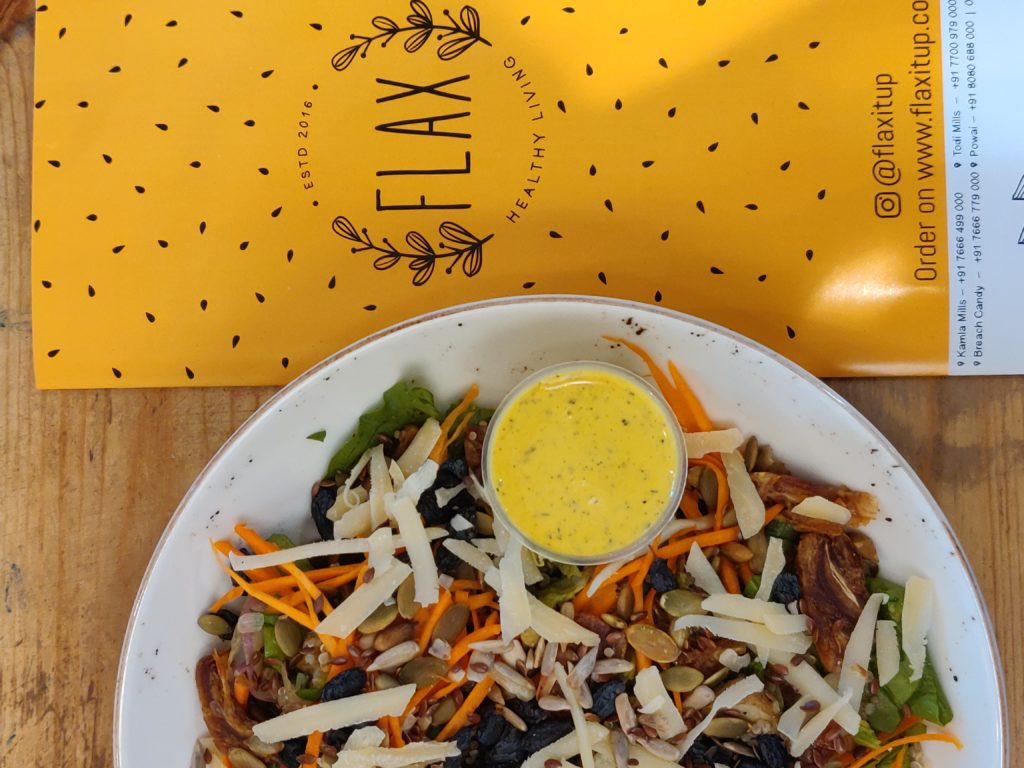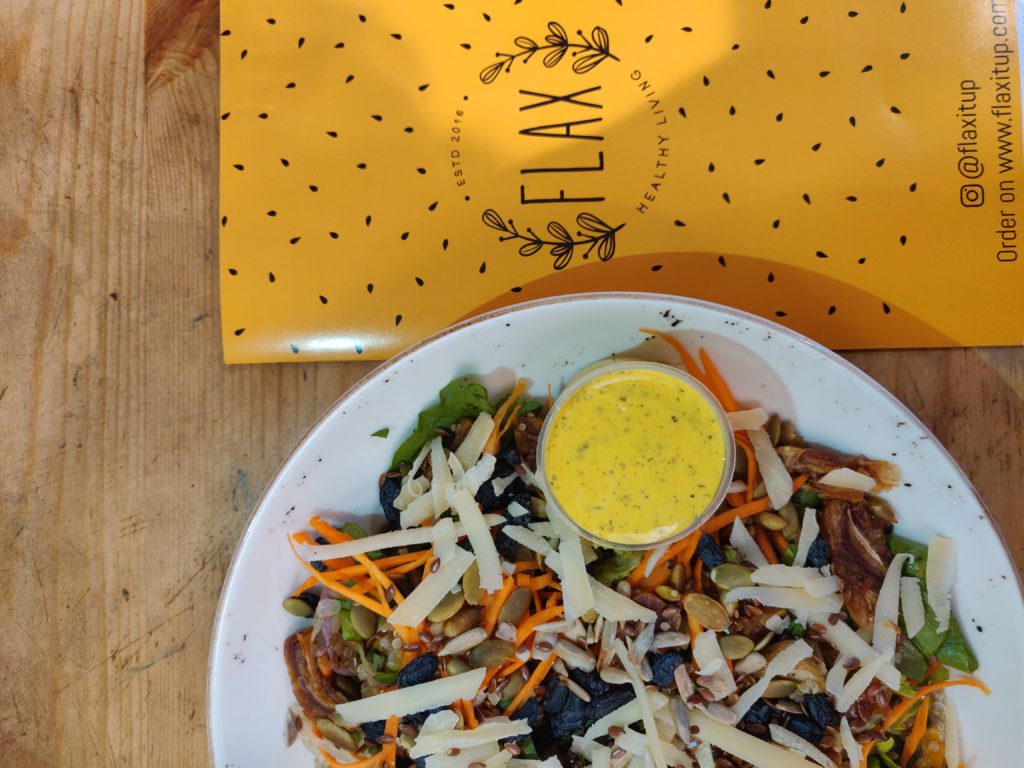 Bowls:-
So Thai Bowl: It's packed with all the essential vitamins having arugula, spinach, a mix of red rice and sprouts, carrots, raw papaya, french beans tomato, wonton crisps and peanuts. The quantity is adequate, just that the quantity of red cabbage and spring onions could have been less as it has a strong taste. Though the highlight of the bowl is its Thai peanut dressing which is one of the best dressing I've tasted. It's scrumptious and enhances the overall taste of this nutritious bowl. Must try!
Rating: 4.5/5
Wraps:-
Hummus and Grilled Paneer Wrap:  Sinfully delectable and healthy at the same time, this wrap consists of arugula, onion, tomato, cucumber, jalapeno, big chunks of grilled paneer, tahina yoghurt and pepper hummus. It's served in two pieces and is flavourous in all aspects.
Rating: 5/5
Greek Yoghurt:-
Greek Honey Vanilla Yoghurt: Flax has its own range of yoghurts in which we tried the Honey Vanilla flavoured yoghurt. This yoghurt made with cow milk was quite thick having balanced sweetness and had more of the taste of vanilla than honey. Overall, it's delish.
Rating: 4/5
Note: Almost all the dishes have flax seeds in it, talk about staying true to its name.
In conclusion, Flax serves some amazing salads, bowls and smoothies; having their own range of cold-pressed juices and yoghurts as well.  If you're looking for some outlet that serves quality, healthy and delectable meals then this is the place to be.