The word 'Ambrosia' comes from Greek mythology which literally means 'the food of the gods' so needless to say I was expecting a 'heavenly' lunching experience when I visited this café on a Friday afternoon and I was thoroughly pleased with its service, setting and scrumptious servings. This aesthetically pleasing quaint café is situated amidst the hustle-bustle of the towering business parks in Marol that lies at a distance of 350m from Marol Naka Metro Station, making it easily accessible for the patrons.
Ambience:-
The Victorian styled décor coupled with some references of the Retro themed color scheme in the corners, gave the interiors an elegant yet vibrant appeal. The vivid splash of colors on the chairs/sofas went along really well with the rustic wooden furnishing, giving a country vibe to the overall ambience. The café has ample space with both indoor as well as outdoor seating available for the patrons. The sitting area on the outside is surrounded by potted plants, giving it a close to nature homely setting. I preferred sitting on the outside in natural light, as the indoor area was pretty dim lit during the noon. The tables were well organized and were squeaky clean with no leftover stain marks, making it a hygienic place to be.  Overall, the warm and inviting vibe of this cozy café had my heart.
Rating: 5/5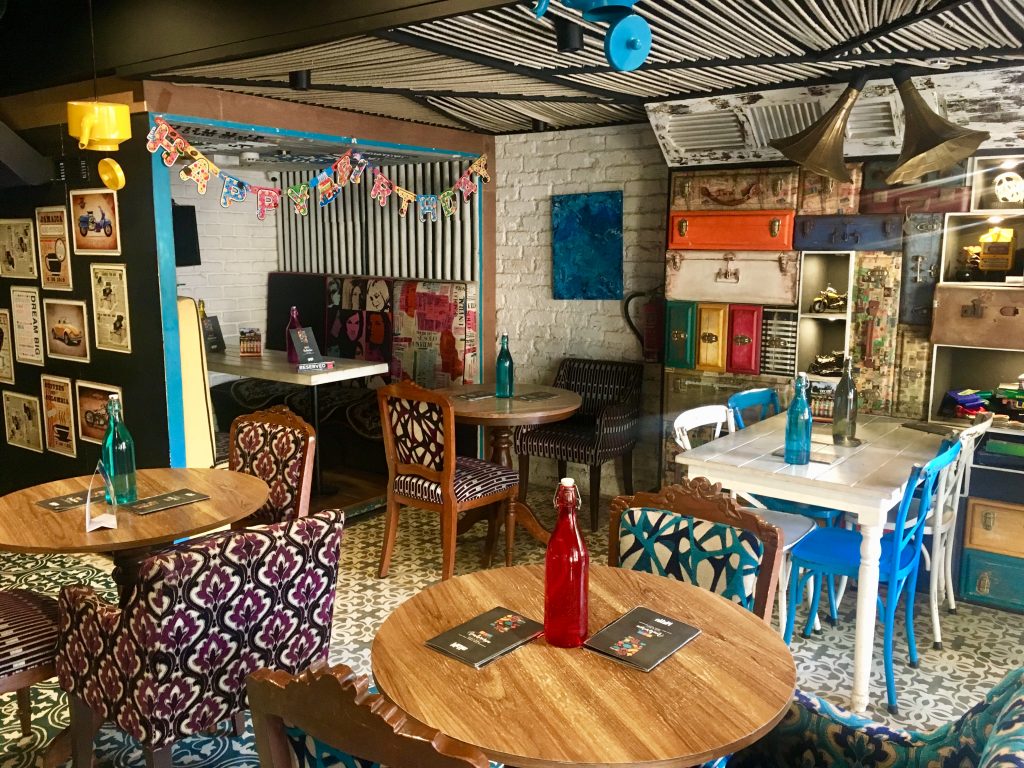 Service:-
We found company of a courteous and friendly gentleman named Noor who assisted us while choosing dishes according to our preferences and he also recommended the beverages that went along with a particular dish.  He was well-versed with the dishes/beverages on the menu and also its ingredients which actually helped us with placing the order swiftly. Overall, the service was splendid and prompt.
Rating: 5/5
Beverages:-
Kit-Kat shake: This will surely satisfy your sweet-tooth. The presentation of the beverage was as wonderful as its taste, with a piece of kit-kat sitting on a mountain of whipped cream which was covered in circles by a layer of chocolate sauce. It was a delectable affair.
Rating: 4.5/5
Strawberry milkshake: This is a seasonal beverage recommended to us by Noor which again was flavorsome. Unlike the other two milkshakes, here the whipped cream was tasting a little sour maybe because of the syrup spread on it. Yet, the overall the taste of the beverage was pretty good and I loved it berry much!
Rating: 4/5
Salted Caramel Milkshake: I absolute detest the taste of Caramel if I consume it in major quantity. I honestly wasn't placing my bets on this one but it surprisingly turned out to be better than the above two drinks. The shake was moderately thick and wasn't too oversweet. I absolutely savored each delicious sip of this well presented beverage.
Rating: 5/5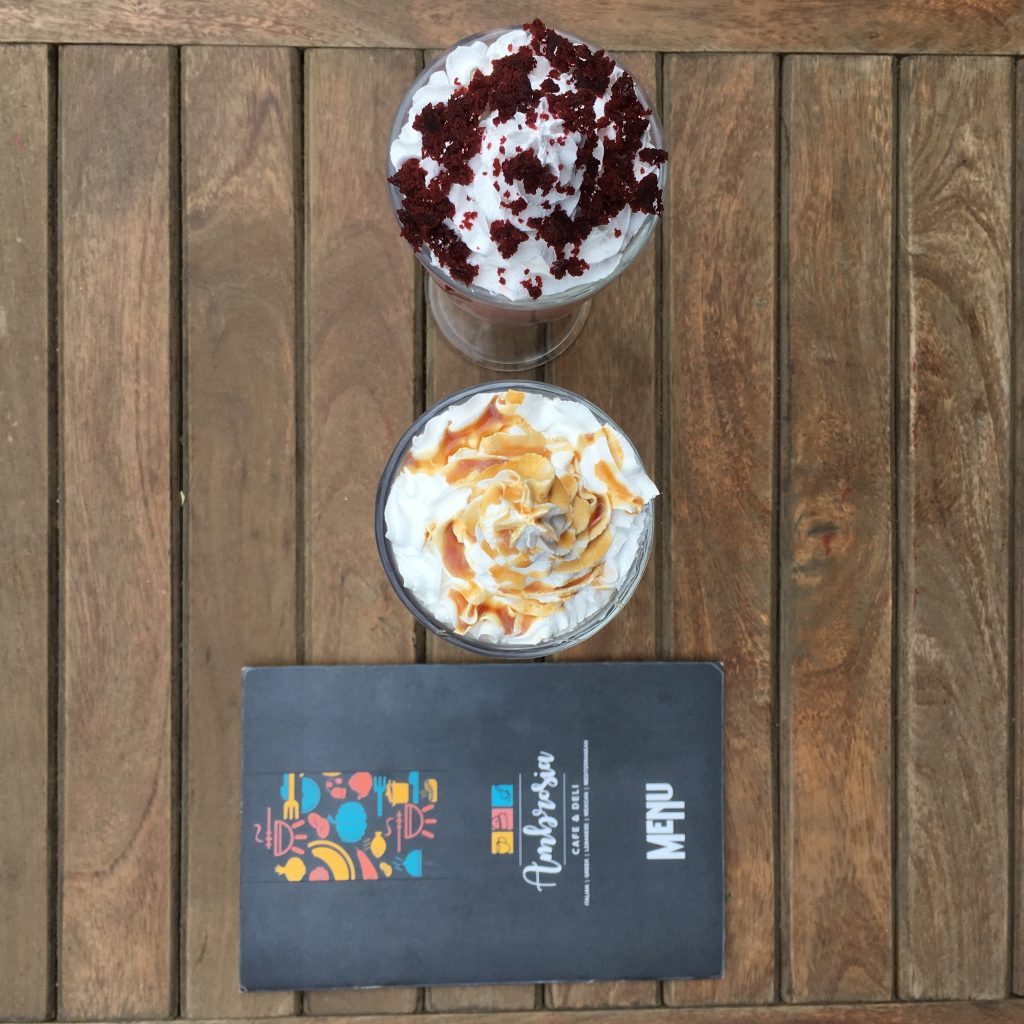 Watermelon Fizz:  A refreshing blend of watermelon, ginger and lime served cold in a jar is all you need to unwind on a hot summer afternoon or otherwise. This is one the best coolers I've had and I'd highly recommend it.
Rating: 5/5
Additional: Ambrosia has now started with a range of non-alcoholic beverages named 'Coolberg'. We tasted three different varieties in it, namely, peach, malt and cranberry and each one of the three were equally great!
Food:-
Horiatiki Salata (HIGHLY RECOMMENDED):  The most impressive thing about Ambrosia would be the way they've presented their food and that actually makes it more delicious. Horiatiki Salata is a mix of exotic veggies and feta cheese which is tossed in olive oil which overall makes it one of the healthiest and scrumptious dishes on the menu. I relished every bite of it and it's a must try!
Rating: 5/5
Stuffed mushrooms:  It's juicy and meaty on the outside, while creamy and full of flavor on the inside. The stuffing of cheese, garlic, butter and parsley gives a rich flavor to the dish. This succulent appetizer will literally melt in your mouth and I can't recommend it enough.
Rating: 5/5
Desserts:-
Nutella Waffle:  The waffle came layered with nutella which was topped with a patterned design made with chocolate sauce. It was served with whipped cream and a scoop of ice cream on the side. It was toothsome but overall I wish the waffle was a little crispier. Nevertheless, the taste was delectable. At first I thought it would be over-sweet but it actually offered the right amount of sweetness and was 'waffley' scrumptious.
Rating: 4.5/5
Favorite Gooey Brownie: This one was an extremely luscious affair to end our lunch with and it's probably the most palatable dish the café has to offer. The brownie was sprinkled with chocolate chips and alongside it was a scoop of vanilla. It was literally a mouth-watering affair which we totally relished. This one is my top pick in desserts which will definitely satisfy your sweet-tooth.
Rating: 5/5
Lastly, it was an impressive lunching experience with fine service, splendid ambience along with palatable, appetizing, and tasty food. The menu is quite elaborate with both the options for vegetarians and non vegetarians. It's a value for money experience and I'll definitely recommend this place.
Overall rating: 5/5
Smakelijk eten!