Kosmic Sea Lounge is situated at a prime location in Borivali West's IC colony which is just parallel to Link Road, making the commute pretty convenient. It is one of the most happening places in its vicinity, thereby attracting a lot of footfalls even of weekdays. It is a multi-cuisine place serving North Indian, Chinese, Mughlai, and Continental cuisines. The lounge is currently running various offers like buy 3 get 1 on selected Pint, buy 1 get 1 on selected Pitcher, etc. and it's valid till 1 Nov 2019 so surely check it out if you visit with a group of friends.
Ambience:-
The lounge is extremely spacious with both indoor and outdoor seating available. There's a projector screen outside where one can enjoy the live stream of various matches and also there is a LED screen for the same on the inside as well. We visited during the evening where the place was lit up with dim bottled and victorian styled lights; it made for a cozy setting. There is a live DJ on the inside with a separate dance section where there is an inverted boat like installation towards the ceiling which was something unique. Also, the dance section is well lit with various colorful/disco lights, giving it a retro touch. Overall, the seating is quite comfortable and with the DJ playing some latest tracks, is sure to make your dining experience worthwhile.
Rating: 4/5
Service:-
The staff members were courteous and friendly. Mr. Dhananjay Singh, Raju Prasad and Maqbool took great care of the table and also recommended us various dishes. The service was prompt even though there were quite a number of people coming in. Overall, the service here is impressive.
Rating: 5/5
Beverages:-
1) Berry Blast: The base is of vodka and the blend of strawberry syrup and lime gives it a sweet, fruity and citric flavor. As it arrived, the taste was a little too strong but upon stirring it retained a mild sweet tasting cocktail taste, just the way I like it. Definitely recommended if you like a fruity after taste.
Rating:4/5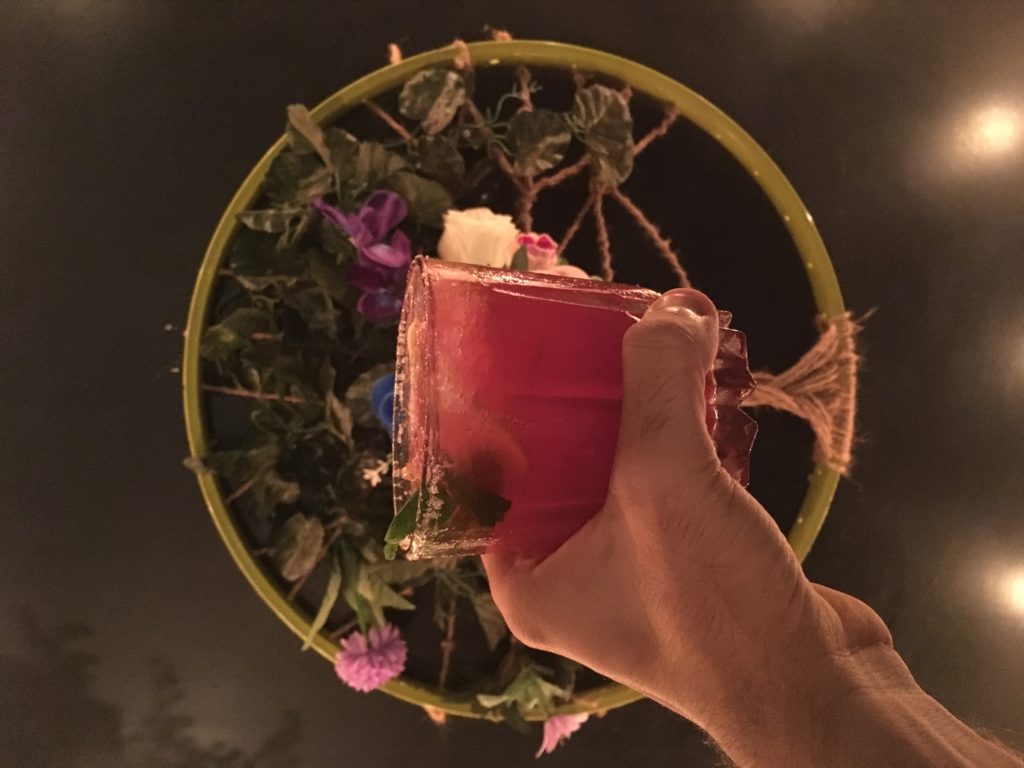 2) Nutella Shake: The shake was thick, full-bodied, and the quantity was also adequate. The sweetness was well maintained and it's sure to please your taste buds.  Chocolate lovers, just go for it!
Rating: 5/5
Food:-
1) Mushroom stuff tikka: Props to the chef for this delectable starter dish which was extremely well presented. It includes eight pieces of marinated mushroom well cooked in tandoor, served along with slices of onions covered in mayo and mint chatni. The mushrooms were toothsome and tasted even more delicious with the chatni. Highly recommended!
Rating: 5/5
2) Veg Crispy: It consisted of mixed vegetable batter fried and then tossed in a sweet-spicy sauce. It sure was crispy giving a flavourful after taste of ginger and garlic but it was quite salty to my liking.
Rating: 3.5/5
3) Paneer Shashlik Sizzler: The scrumptious platter was wholesome and filling and the quantity is adequate for two people. A mix of sauteed veggies, potato wedges, rice, and paneer was flavourous and scrummy! The Indo – Chinese dish is definitely a go-to main course option.
Rating: 5/5
Dessert:-
Sizzling Brownie: This a classic dessert option having a chocolate brownie laden in chocolate sauce and topped with vanilla ice-cream. The serving was luscious and rich in taste. It's a perfect way to end the dining experience.
In conclusion, the flavoursome dishes, impressive ambience and splendid service make it a great place to hang out with friends and family.
Overall rating: 5/5
Smakelijk Eten!