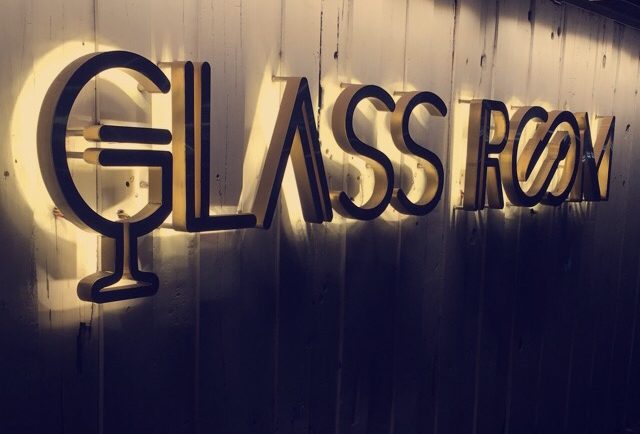 Glass Room finds its space on a prominent lane of Bandra, which is Link Road and is surrounded by several cafes and eateries. The place serves some really delectable  North Indian and Fast food along with some delicious cocktails. The retro bar regular hosts DJ nights for its patrons with happy hours running throughout the week, till 9 PM. One can keep track of their events through their social media handles, especially FB, for the latest updates.
Ambience:-
The place has outdoor open-air seating with a projector screen which shows live matches and an indoor AC seating having high-chairs and an open bar.  The indoor space is quite limited have a bar-like ambience with dim yet quirky lightings. The bar shelf is eye-catching, where you can spot some prominent spirits on display. The place is well-organised with good hygiene standards, even the washroom was clean. Overall, the spacing is limited and the ambience is pretty good.
Rating: 4/5
Service and Staff:-
As we entered, we were escorted to our seat by Mr Dinesh who was polite and courteous in his approach. Mr Glen who handles the bar recommended us various cocktails and explained its making in detail. He was swift with his mixing and we got our beverages in no time. The Chef, Mr Nandkishore, did a splendid job with the perfect starters and main-course dishes, which again were served quite swiftly. Overall, the service is splendid!
Rating: 5/5
Beverages:-
1) Melon Caiprosca: We ordered this delectable cocktail from the 'Eat Your Cocktails' section of the menu which basically consists of fruit-based cocktails that have chunks of fresh fruits to enhance the citrus/fruity flavour of the drink. Melon Caiprosca, in particular, is a vodka-based drink having a blend of melon chunks, melon nectar, fresh lime and mint. It's an absolutely vivifying cocktail having the garnishing of a lime wedge on the rim of the glass and three melon balls on a stick. The melon balls were dipped for 8 hours in vodka giving it a distinct flavoursome taste. It's a perfect summer drink which is light, sweet and refreshing. Recommended!
Rating: 5/5
2) Peach Iced Tea: Firstly, we requested it to be made with very less quantity of granulated sugar, as sometimes the Iced Teas gets over sweet. The request was fulfilled and the drink had a perfect balance of sweetness, making it even more delish! It's a classic drink to beat the summer heat which was blended to perfection! Definitely recommended!
Rating: 5/5
Appetisers:-
1) Baked Nachos (V): The scrummy dish consists of home-made tortilla chips topped with chopped tomatoes, onions, jalapenos, fresh coriander and layers of cheddar cheese. The chips tasted absolutely toothsome with the cheese and the sauce, which came as an accompaniment. Must try!
Rating: 5/5
2) Quinoa and Mushroom Arancini with Garlic Aioli: The plating consists of six deep-fried balls of spiced mashed mushroom and quinoa; topped with garlic aioli, which is a Mediterranean sauce. The outer texture of the Arancini is crisp on the bite while the inner stuffing just melts in the mouth. The aioli goes well with the dish, making it even more scrumptious. Overall, a great starter dish!
Rating: 5/5
Main Course:-
1) Chef's Special Pasta:  We opted for the Chef's Special Spaghetti that includes exotic vegetables, creamy tomato sauce spiced with paprika and three garlic bread as an accompaniment. The spaghetti was extremely scrumptious having a well-balanced mix of spices and paprika. Definitely a must-try main-course option here.
Rating: 5/5
Dessert:-
1) Eggless Walnut Brownie with Ice-Cream: The presentation of the dish itself was appetizing, having a brownie placed on a bed of chocolate sauce and topped with vanilla ice-cream. The walnut brownie was gooey, soft, luscious and palatable. It tasted even more delicious with a scoop of the rich vanilla ice-cream. Definitely a great end to the dining experience.
Rating: 5/5
In conclusion, the Glass Room is definitely a gem of a place in Bandra West having some really toothsome dishes, great cocktails and splendid service. Will surely visit it soon!
Overall rating: 5/5
Smakelijk Eten!