Looking for life insurance? Bajaj Allianz, one of the trusted names in the industry, offers a new Bajaj Allianz life insurance policy that fits right into the investment goals of the subscriber. Please have a look.
Ye mana ki daulat kamana hai zaroori..
Kyunki Zindagi ke kharche behisaab hai..
Magar ye bhi sach hai ki zindagi hai ek hi..
Aur mukammal Karna na jane kitne khwaab hai..
The above lines quoted by a famous poet sums up the summary of life in terms of money and investment management.
We live only once and with ample number of dreams that we aspire to fulfil in our lives. Dreams of buying a luxury car, dreams of having a destination wedding, dreams of becoming owner of a start-up, dreams of giving the best possible education to your children and the list never ends.
What makes these dreams a reality, is a focused and goal focused investment.
What if my Investments are not focused and goal based?
This question comes in minds of many investors who do invest , but their investment is either not well planned for future goals or it is not focused on proper growth.
If your investment is not focused and goal based, following are the major consequences :
– Short term goals makes long term goals difficult :
Our lives makes it challenging for us to focus on a fixed set of goals. With the advent of new invention and new lifestyle, we are bringing in lots of short term goals , but many of us save corpus for only long term goals , so then to fulfill short term goals , we make it difficult to achieve the longer term goals.
– Higher risk and lower returns :
The second factor that comes with unplanned investment is higher risk of ending with losses in investment or either not a handsome return.
That is why it is important to avoid such problems and to have a planned and goal specific investment stratergy, so that you can #InvestBefikar and also you can #JiyoBefikar .
Then how to know what's a focused and goal based investment is like?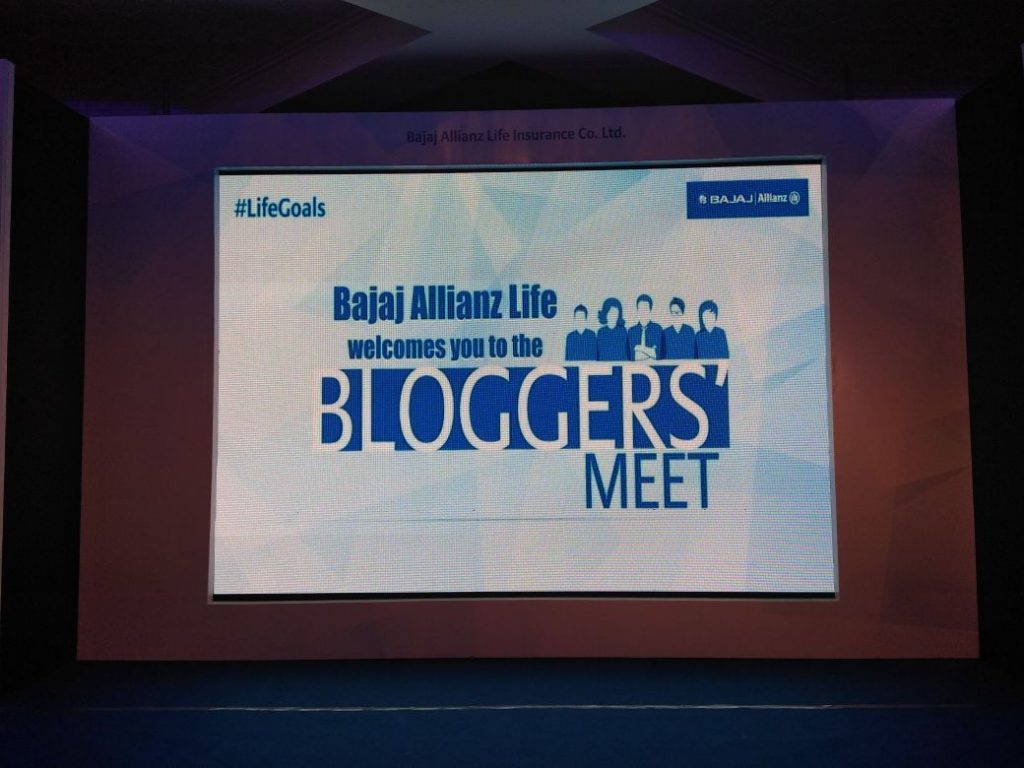 Yes , with the exact same doubt , we entered the blogging meet organised by Bajaj Allianz Life Insurance. As the saying goes, if you want to learn something , learn from the maestro, so there can be none other than the heads of Bajaj Allianz Life insurance to let us know what it takes to get your investments right.
That's great , tell me more about this event?
Yes , we are here to share all the highlights of the event.
The event started with a a warm welcome and then came the funny bone master – Suresh Menon, who took us through various aspects of how a general Indian invest in a funny and subtle manner. He highlighted how are we made to learn in our childhood about keeping money in the safe and not investing it much and how that goes wrong at times.
After that session of what can be termed as "Learn by fun" , then came the CIO of Bajaj Allianz Life Insurance and briefed if about how Bajaj Allianz has created it's good will in the investment industry by giving consistent and reliable performance.
Then he took us through some crisp but important points about how different investment affect the goals we have in life.
Some of the highlights were :
– The asset classes and how it can fulfil are life goals :
He explained that investment have to be tailor made for short term as well as longer term goals and how ULIP can help us to achieve our #LifeGoals .
There are many ways to invest but investment mode like fixed deposit kills the liquidity and long term orientation of the investment. Similarly how mutual funds have been taking away the flexibility to switch in return for good returns.
After a brainstorming session about investment management , we were taken to play a game that made us learn a lot about investment and it's effect on our lives.
After playing the game , what investment tips we learnt were :
The game was dart board. The target position distance from the board was inversely proportional to the invidual's age.
Lessons learnt :
– The early you start , the easier and the focused is the way you can complete the life goals.
– The late you start , the more effort will be needed and  will have higher chances of missing out on many life goals .
Ok , now I understand how can focused and goal based investment can improve my chances of getting my life goals, but how do I achieve them ?
Yes , this will be obvious question after reading the above tips and ideas. But as the saying goes , suprises are beautiful , so we can let you know that Bajaj Allianz Life Insurance is coming up with something amazing that will make sure that your investment fulfils your life goals , but how…..
Well , wait for our next blog to know more about this..
So as they say , TO BE CONTINUED…..
Until then , keep looking at all the updates from Bajaj Allianz Life Insurance
Well , do check out some snaps of the event that took place :