So, it's been quite sometime since I went to the Yamaha Fascino Miss Diva Miss Universe India event. But the real thrill is actually building up. I got cool goodies.  Any girl loves-perfumes! Yes, I got to tell you about all three and what I love about them. They are signature perfumes of Miss Diva and so are named accordingly.
Let's get started with my experience of feeling fashionably fragrant.
Miss Diva Showstopper:
There is something special about this perfume. It goes by it's name. Among the three, this one is my favorite. Luckily, I got to keep this one. The fragrance of this perfume makes me feel like a showstopper. It is not really strong. It is feminine and not delicate. It makes a statement.
Showstopper is a combination of bergamot, blackcurrant, sandalwood and vanilla among other divalicious fragrances.
I would give it 5/5 stars for it's long lasting effect, absolutely stunning fragrance and audaciousness which suits my personality.
Miss Diva Covergirl:
What makes this perfume different from Showstopper is the addition of  classic rose. It makes it little subtle and floral. Fit for someone with a more generous personality. It is perfect for occasions with family and friends especially traveling to fashionable seaside restaurants.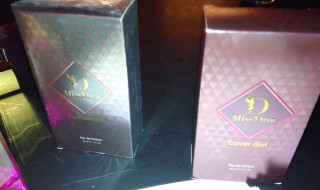 I rate it 3.5/5
Miss Diva Fashionista:
This one is my second favorite. The fragrance is coconuty, sensuous vanilla and apricot. It gives a subtle, deep and stylish feel. It is not bold like the showstopper but not casual like covergirl. It is fashionable!
I rate it 4/5
The official french fragrances are available in the Miss Diva Fragrance range on Allgoodscents.com.  I am loving being a showstopper, choose what suits your style quotient!