Lord Of The Drinks, popularly known as LOTD is a casual dining space & lounge that needs no introduction. It has its presence in Delhi, Chennai and with two outlets in Mumbai, it has become one of the best party hubs in the city. LOTD is located in Veera Desai area, Near Infinity Mall, Andheri West. The place does serve a variety of cuisines, namely, Finger Food, Continental, European, Chinese, North Indian and Italian but also, as the name suggests, it is popular for the variety of cocktails listed on its outspread menu. I will come to its splendid ambience further in the review but the thing that totally appealed to me about this place is that it's LGBTQIA friendly which is a welcome move and more lounge and pubs should adopt this across the city. Kudos to them for this move.
Ambience:-
Lord Of the Drinks in Lower Parel has been given the title of 'The Longest Island Bar Of Asia" so naturally, its predecessor had to be as grand and opulent as the former. Lord Of The Drinks in Andheri West stretches across 8,500 sq. ft, with an open bar on each of its two levels. The lower level has both indoor as well as outdoor seating whereas the deck above is reserved as a party place and is only accessible on the weekends. The outdoor seating is majestic with fairy lights running across the entire set up while the interiors is equally resplendent with several well-lit chandeliers, a projector screen for live match screenings, huge open bar, deco bar stools, vibrant skulls on the wall, and exquisite furnishing by bent chair. The sound set up here is also great with trending hits playing while you slurp on your favourite cocktail. All in all, the ambience is classy and magnificent.
Rating: 5/5
Service:-
We were courteously greeted upon arrival by Mr Raghvendra, who showed us our seat and made us feel comfortable. The service here is prompt and splendid with drinks and food arriving in minutes upon ordering; we didn't have to wait at all. The staff here is helpful and they recommended us various mocktails and dishes based on our taste. Overall, the service was great!
Rating: 5/5
Cocktail:-
LORD LIIT: This one is a house special and it's one of the best LIITs I've had till date. It's a great blend of tropical fruit infused with five spirits, i.e,  Vodka, Tequila, Light Rum, Triple Sec and Gin, along with passion fruit liqueur, topped with mulled wine and a fire orange hole lit in flames with a small quantity of Absinthe on it. The drink is usually strong and gives you a kick upon slurping several sips. Krishna, who manages the bar, absolutely perfected this one with the right amount of spirits put so that nothing overpowers the other and the balance was well maintained. I'd highly recommend you to order this one as you just can't go wrong with the LORD LIIT.
Rating: 5/5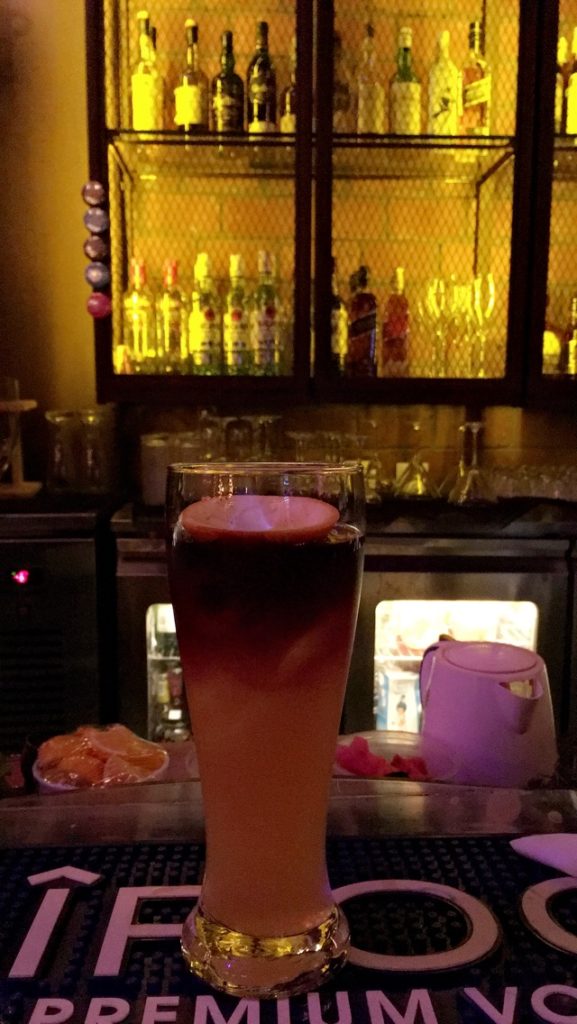 Mocktails:-
1) Guava Delight: This one is a spicy and tangy affair with Guava nectar, Pineapple juice and lemon extracts mixed together while having some Indian spices finely sprinkled on the rim of the glass; garnished with coriander leaves. This particular mocktail is getting popular these days and I loved LOTD's take on it.  If you want to order something different, a spicy mocktail, then this one's for you!
Rating: 4/5
2) Sundowner: It's a sweet tasting vivifying drink with the base of pineapple juice, mixed with lemon juice, gomme syrup (it is a sugar and water mixture, but has an added ingredient of gum Arabaic which acts as an emulsifier) & lemonade. Garnished with fresh pineapple and corriander leaves, this drink is sure to tickle your taste buds. Must try!
Rating: 5/5
Starters:-
1) Honey Chilli Potato Cheese Shots: This dish was recommended by the staff and it was absolutely delectable. A bowl filled with the scrumptious and spicy honey chilli potatoes cheese shots, which consists of cheese, potatoes, coated in crunchy breadcrumbs and garnished with crispy scallion and sesame seeds, is a perfect starter dish to have with the mocktails/cocktails served. There's a burst of flavours upon every bite and it was fried just right making it scrummy in taste. Definitely a must-try dish!
Rating: 5/5
2) True Nachos Bowl: Who doesn't like Nachos? A classic starter dish having tortilla chips, bathed in classic salsa sauce and creamy cheese, is toothsome and crispy in all aspects; the salsa sauce was flavourous! Also, the quantity provided is quite filling for two.
Rating: 4/5
Main Course:-
Classic Paneer Tikka:  The thyme-scented paneer tikka was soft on the bite and the marination of hung curd with a mix of various spices made it yummy and flavourful. It especially tasted delectable with the mint ketchup and cocktail onions that came along with it. It's another classic dish which I'd recommend.
Rating: 5/5
Dessert:-
Milk Cake Pie: It's a unique house special dessert recommended to us by the staff. All three of the milk cakes were perfectly baked with a filling of crispy milk pudding inside and complimented with two burnt marshmallows. Truly something different having a luscious and rich taste, giving a perfect ending to this amazing dining experience.
Rating: 5/5
In conclusion, LOTD is brand in itself which is gaining popularity with each passing day with its exquisite ambience, splendid service and scrumptious servings. It's a must-visit place with your date/friends/family; you'd surely have an amazing time as I did.
Overall rating: 5/5
Smakelijk Eten!