In the by lanes of Juhu, right opposite the Juhu Post Office lies a place that is popular for its Middle-Eastern Cuisine, sumptuous interiors, and splendid service. It's a fine-dining delight and attracts a lot of patrons from all over Mumbai. It has both vegetarian and non-vegetarian dishes on its elaborate menu and a variety of beverages as well. I went for a luncheon on a dry day, unfortunately, and below is my experience of the same.
Ambience:-
The interior is exquisite and resplendent, wherein special care is taken that the Middle_eastern theme is reflected through its designs, wall arts, carvings, carpets, sofas, lighting, etc. The music here gives a sense of relaxation while dining as it's quite mellow. There is outdoor as well as indoor seating and both are spacious. The indoor seating especially is magnificent and organized pretty well with enough space on the isle and the sofas with pillows give good comfort while sitting for a longer duration. Overall, the interior is opulent and impressive.
Rating: 5/5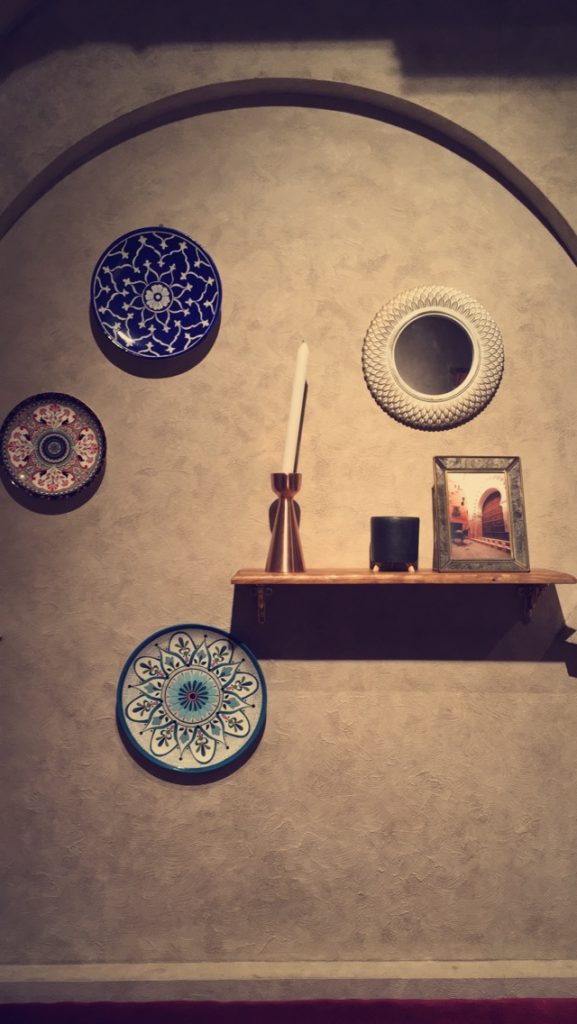 Staff and Service:-
The table was managed by Mr Rishabh and he was courteous and polite in his approach. He recommended us dishes as per our taste and was well versed with the menu. Mr. Rohit behind the bar was quick in making the mocktails and we didn't have to wait much. Also, I'd like to mention the Chef, Mr. Ajay, who prepared some of the most scrumptious Middle_eastern dishes I've tasted. Kudos to all of them. Overall, the service was splendid.
Rating: 5/5
Mocktails:-
1) Reyhan: The vivifying combination of sweet lime, fresh orange juice, blossom water and a dash of basil was delectable, giving a citrus after-taste. It's mildly tangy and the balanced flavor of basil makes it a refreshing drink to have with any platter. Worth a try!
Rating: 4.5/5
2) Greek Goddess: The blend of greek yoghurt with wild berries was truly flavorsome in all aspects and it was garnished with three pieces of berries. It's a refreshing drink; though it could have been a little thick.
Rating: 4.3/5
Food:-
1) Hummus Bayroute: It's their signature dish and it truly stands up to its reputation upon taking the first bite. It's genuinely one of the creamiest hummus I've tasted, which also had a mix of greek yogurt labneh swirl, topped with za'atar (herb), parsley and roasted pine nut. The rich, thick and scrumptious hummus was served with the freshly made pita bread which was extremely light on the bite and some pickled slices of veggies, jalapenos, and olives. The platter was truly the highlight of the luncheon and I'd definitely recommend the signature hummus served by Bayroute.
Rating: 5/5
2) Muhammara: The dish is originally from Aleppo, Syria, and its usually found in Levantine and Turkish cuisines. I tried Muhammara upon the recommendation of the staff and it was truly a scrumptious affair. It basically consists of Syrian red pepper and walnut dip sprinkled with cumin, red chili, and pomegranate molasses. Muhammara was absolutely delicious and was served along with a basket of soft pita bread. The quality is undoubtedly top-notched, I wish the quantity was a bit more.
Rating: 5/5
3) Cottage-Cheese Shwarma: The Shwarma was stuffed with some veggies, sauces, and panner, which was soft, well marinated and grilled. It tasted absolutely toothsome, especially with the three dips that were served along with it. The Shwarma was sliced in two making it easier to eat and it's definitely a must-try for its flavourful and scrummy taste.
Rating: 5/5
Desserts:-
1) Pistachio and Fig ice-cream: The ice-cream was served in a bowl having two scoops of this sinful indulgence. It was luscious, creamy and lip-smacking in taste, having a generous quantity of fig and pistachio pieces in it. Recommended!
Rating: 5/5
2) Raspberry Sorbet: One of the best things about Bayroute is its elaborate menu having a varied variety of options including desserts. The frozen dessert made from sugar-sweetened water with raspberry puree was again luscious and delightful. They also have other flavors in it, namely: orange and passion fruit & mango chilly. All of the three flavors of sorbet here are delish.
Rating: 4.8/5
In conclusion, Bayroute is one of the finest places in Mumbai that serves the best of Middle-Eastern cuisines. The ambience is well in sync with the cuisine it serves and the service here is splendid. The variety of dishes Bayroute offers is unheard of and it was truly a magnificent fine dining experience. Definitely a great date place as well, can't wait to visit again.