Chai breaks got a different meaning after Chaayos entered the business! The R4review team recently went to the newly opened Chaayos outlet in M Block, Connaught Place, Delhi is the largest Chaayos outlet in Delhi – NCR to taste the winter special menu.
For me, more than food, the ambiance of any food joint is more important. This outlet has a fairy warm and welcoming environment.
There are li'l personal booths as well where you can have your  casual meetings.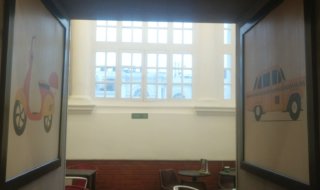 This outlet also have a nook for books. And the amazing wall paintings make the vibes of this place pretty amazing!
Coming to the food, we first tried the chicken cutlets and the paneer bhurji butter bun. The cutlets are spicy and perfect for the Delhi winters. Rich in butter, the paneer bhurji bun are a perfect companion for the your evening chai. 
Speaking of chai, the winter special gud wali chai, tea prepared using jaggery powder, is must try of this menu at Chaayos. It tastes good, is good for your health and keeps you cozy during the winters!
The next in the menu is the kulhar butter chicken and kulcha which is an absolute delight. It is filling and scrumptious. Also, the Keema Open Parantha is loaded with cheese and you will love this parantha with a twist.
The banana walnut cake and the moist chocolate cake will serve as the perfect last course for your meal! The banana walnut cake is rich in spices and nuts and is less sweet. It is a perfect tea cake. The moist chocolate cake is one complete indulgence which you have to try.
Finally, I decided to have my personal favourite at Chaayos, the kashmiri Kahwa.  But on the restaurant's suggestion, I tried the God's chai which is a amazing blend of spices and herbs which you would love in chai!
The new Chaayos in the heart of Delhi is great place to spend your winter evenings while stealing some great moments with your friends over great food and of course, chai!