"No escape" is situated at the heart of Link Road, Bandra at Elco Market (1st floor). The area already had everything that we needed for a perfect day of fun filled shenanigans, but this newly opened fun spot told us what the area was missing.. An hour of adrenaline rush that comes from mental stimulation. Being a huge fan of Sherlock Holmes and Agatha Christy, this place hit home. If you have a knack for mystery and puzzle solving, this is the place to be. It is a perfect spot for a group of friends/family (Ideally 4 or more friends). We went in a group of eight friends.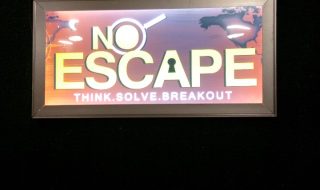 The venue has some really cool props to click social media worthy pictures with.
The escape room has two options to choose from: The prison break and the casino room along with art gallery. While four of our friends went inside the casino room and art gallery, our group went inside the prison break.. And behold.. Thus started the great journey to break out from the prison. We had sixty minutes, a bunch of twisted clues and a ticking clock. It was a great way to exercise our mind.. It started off easy, but as we got deeper into the game, we realized the sheer brilliance with which every step and clue was planned.. It got us working together as a team and jumping with joy every time we cracked a level.. By the time we reached the end, we could feel an adrenaline rush running up our body..  When did you come out to have fun and felt this way? We came out of the prison with a broad smile on our face! While our other friends came out of the casino and they too looked delighted at the experience. I have visited several escape rooms, but what set this one aside was how real everything felt. The levels were so intricately designed that sometimes we actually gasped and said "Wow! That was something.." To put it precisely, this was  certainly, one of of the most satisfying evening of fun we ever had!
If you are looking to have fun with a large group of friends, this is THE place to  be!