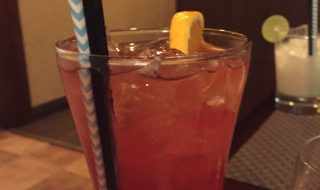 The place is beautifully lit with small yellow lamps and exudes of elegance. It was my first visit to this place and I must say, it surprised me well. The staff is courteous, the venue is beautiful (outdoors better than indoors) and the food & drinks were amazing too. The presentation of the food showed quality clearly.
It is a buffet, which is perfect for foodies like my friends and I. The following are some food and drinks suggestions:
Achari Soya Chaap
White Papad
Chicken Tikka
Gulab Jamun
Jalebi
Chocolate Gooey Cake
Floating Sunset
LIIT
IGR Nectar
Mojito
I don't have much to say about the place because even though, the experience was nice, the food and drinks were not that delicious. You can visit the place for a soothing evening dinner but not for a party with friends because it is designed and advertised like that. I loved it because of my very cute friend, Aanchal Bumb and her interesting stories about work and boys. She is a delight which made my entire experience as positive as it can get.
It may not be a perfect place to visit with friends, but it sure is a great one to visit with family.
Latest posts by Yash Kanodia (see all)